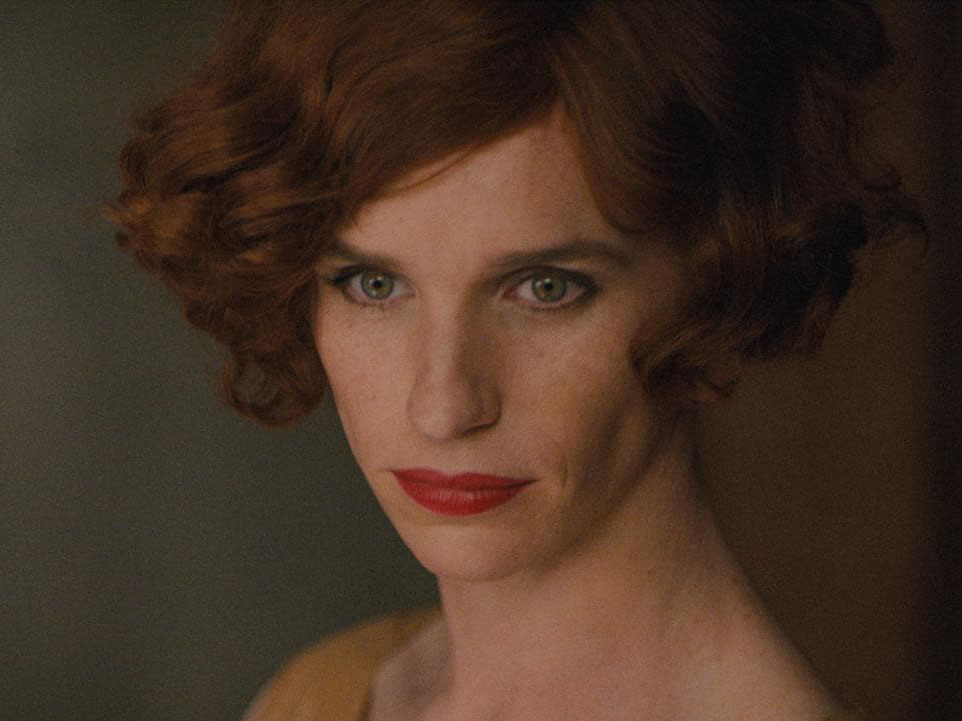 "You Want to Understand? See 'The Danish Girl'"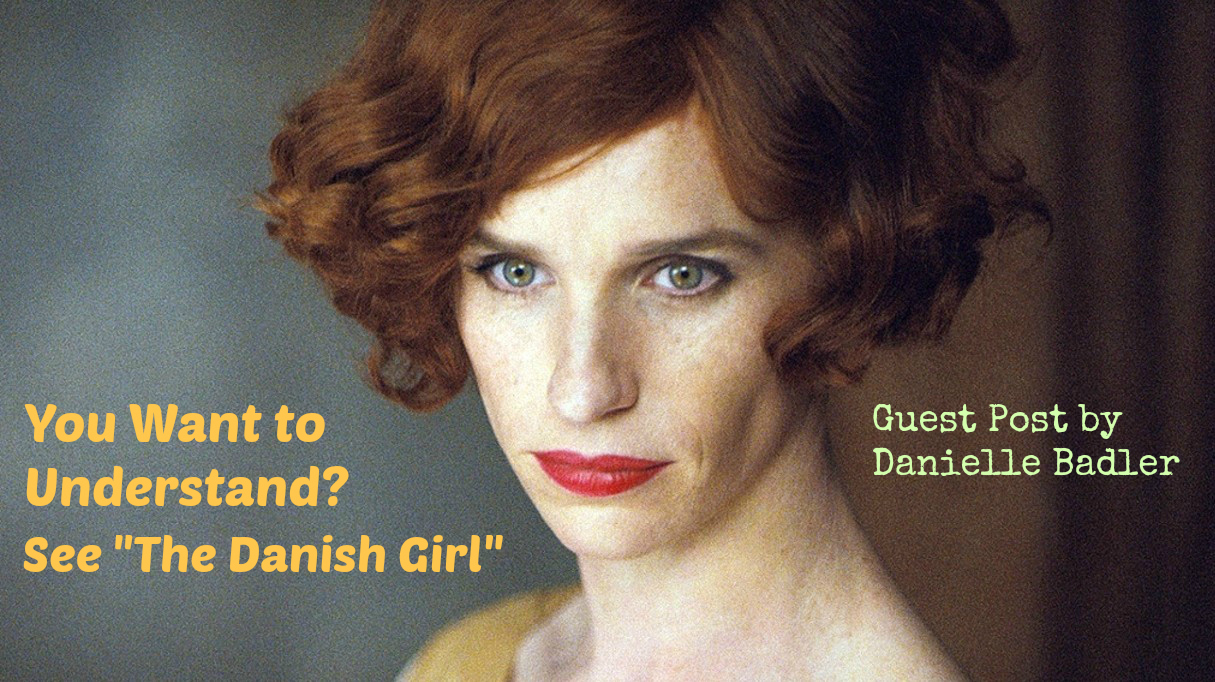 Piggy-backing on the 88th annual Academy Awards coming up this Sunday we've got a guest post from regular contributor Danielle Badler with her reaction to the four-time Oscar-nominated film "The Danish Girl" (Best Actor in a Leading Role, Best Actress in a Supporting Role, Best Production Design, and Best Costume Design).
From The Oscars website:
In the late 1920s, Danish landscape painter Einar Wegener poses as a female dancer for his wife, Gerda, while she waits for her model to arrive. Stirred by the experience and supported by Gerda, Einar begins a journey fraught with both emotional and physical peril as he transitions into his true self, a woman called Lili Elbe.
---
If you're reading this and you haven't seen "The Danish Girl," you need to rectify that situation, immediately.
I saw it a few nights ago with a friend. She actually invited me… she said she couldn't think of anyone more appropriate to see it with.
How prescient she was.
When the lights came up, I turned to her and said we have to talk. And that we did, for three hours.
She asked me if it was difficult to watch.
I said it was just the opposite. I was fascinated… no, astounded, by the similarities in the narrative. I told her, it was like I was watching a peculiar peek back into what my life might have been like, had I been born 50 years earlier.
She asked me if I had a defining moment, like Lili in the movie.
I nodded. And I told her about a close friend, transgender, who I had played golf with, weekly, for three years. About how I got a phone call, almost four years ago now, from a mutual acquaintance, who told me my friend had had a massive stroke.
I told her about how I went to the hospital, on a bright Saturday morning, and found my friend's room, only to be followed in by the attending physician, who proceeded to explain how they take someone off life support.
I told her about how, when the doctor had finished, the family looked at me and asked me who I was. I explained that I was a friend, and a golf partner. So they asked me what I thought, whether I thought they should pull the plug on my friend. They told me how dire my friend's situation was.
I concurred.
And, at that moment, one of my friend's sisters tapped me on the arm, and motioned for us to walk down the hall. We did, and she asked me if I knew her brother by her female name.
I said yes. And, with that, she just burst into tears. Deep, heaving, uncontrollable tears. She got out, barely, between sobs, why did he never tell us? I would have understood. I would have helped. Now it's too late.
I just stood there. I had no clue about what to say. I think I said I'm sorry.
Two months later, I was in Las Vegas, for the annual Diva Las Vegas event, and I had lunch with another sister of my friend, who lived there. Who, it turns out, was the only member of the family who knew my friend's secret.
She and I sat gabbing away… and she started confiding, in girl-talk, about intimate details of her life.
I nodded, and I nodded. Oh, I was listening. But a voice deep inside my brain was saying, hey, something is going on here. Right now, at this moment, I am being accepted as a woman. And I love it. I have crossed over. And I don't want to go back.
Several months later I began my transition.
Back to the movie; my friend asked me about my first time out and about… if I had had problems, like Lili.
Oh yes, I said. A full-tilt meltdown. Really, the one and only time in my life.
I told her about how we were living outside Philadelphia. About how I found on-line someone in the area, Linda, who did makeovers. About how, after a few visits, Linda and I agreed to venture out, in public, to a restaurant.
What happened was that Linda drove. She took me to a very smart restaurant, with valet parking. We pulled up, I got out of the car, and I sort of turned around, trying to get my bearings about just where we were.
And that's when it hit me. I was very close to where I worked. Which meant I could run into someone with whom I worked. Which could lead to me being found out. Which could lead to total ruination and damnation.
I grabbed Linda, and I remember blurting, "Linda, get the car. Get the car. Get the fxxxxxx car, now!
She looked at me. She didn't get it. I said it again, Now!
So we drove to a mall, and parked near another restaurant. I remember getting out of the car and spotting, off to the side, not in our path to the front door, a group of men, talking among themselves.
I said, "Linda, there's men over there!"
She said it's all right, dear, just walk up to the restaurant, one foot ahead of the other. But there's men over there! Just walk!
We made it to the restaurant, without incident, of course, and I had a drink… and another… and another.
Oh, I finally calmed down, and began relishing the experience. So much so that, when we got back to her place, I flat did not want the night to end. I did not want to change back.
Back to the movie; my friend asked me about the steps I took.
I told her that each step was like an out-of-body experience. For example, when I got the formal affidavit of my name and gender change, I remember walking home from the courthouse on a bed of air, soaring, euphoric.
And I remember trying to take a dispassionate, third party view of my euphoria. And thinking I should remember this moment, because, any time I start feeling regrets, cold feet, wondering if I'm doing the right thing, I should just blot it out with, "Are you kidding? Just look at yourself, at how you're reacting!"
And I remember the same, involuntary emotional release when I got my new driver's license, and my new social security card, and my new passport, and my new credit cards, and my new checking account.
Back again to the movie; my friend asked me about the experience of my surgery.
I said, look, someone always has to go first. If it was me, I don't think I could have done it. Considering the time, and the risks of the time, I don't think I would have had the nerve.
But, I said to my friend, I am forever grateful. Grateful to Lili.
---
Author Bio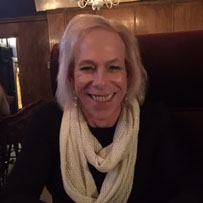 New York native Danielle Badler embarked on a writing and communications consulting career in early 2007, following more than 30 years in corporate communications, the last ten as the chief global communications officer for three Fortune 500 companies. That experience involved six corporate relocations, including a year in Lausanne, Switzerland.
Her work includes facilitating executive peer group meetings for The Conference Board in New York, as well as regular articles and columns for the Porsche Club of America, TFLCar.com and planet-9.com.
Danielle is also very active in community involvement, as the Board President of Alliance Francaise de Denver and a board member of the National Federation of Alliance Francaises, as well as a member of the Rocky Mountain Automotive Press Association. She is also on the Board of Directors for the GLBT Center of Denver.
A graduate of Case Western Reserve University, where she co-edited her college newspaper, Danielle now calls Denver home. She can be reached at rdbadler@gmail.com.