Eight Days from Gender Reassignment Surgery…I'm Shaking & Baking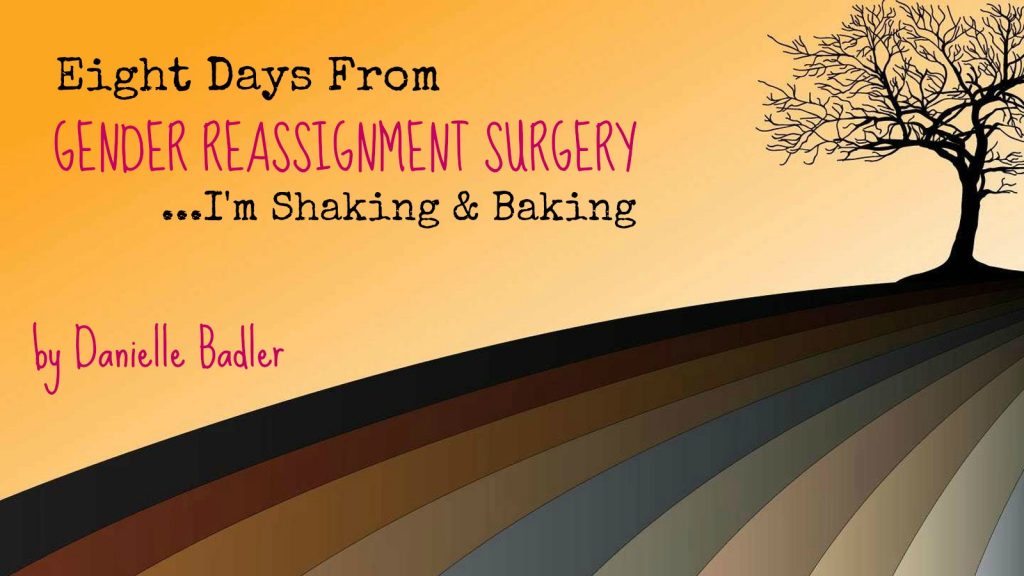 Guest Post by Danielle Badler
At this writing, I am exactly eight days away from what I'm euphemistically calling, say it with an announcer's stentorian delivery, "the conclusion to the physical portion of our transition program."
How do I feel? Wound up. Excited. Nervous. Excited. Curious. Excited. Stressed. Excited.
At one level, it's all just so absurd. I look at myself in the mirror and try to visualize body parts being repurposed, and new ones coming on-line. How will I look? How will I feel? How will I look?
My head is spinning. It's hard to concentrate. It's suddenly all caught up with me.
You see, I created a diversion for myself. I did the NY Marathon, almost a month ago. Yeah, yeah, yeah. Hey, it was my fourth. I did finish. Barely. But what it really did was present a physical hurdle to get over, so that I was not dwelling too much, too far ahead, on what's coming.
And I did have a revelation, somewhere around mile 24 or 25. It concerned how you actually finish a marathon, when you hurt everywhere below the waist, and that little voice inside your head is screaming, "We don't need to do this!"
You keep on keeping on.
It's the same with Gender Reassignment Surgery (GRS). It's all forward. And it's also complicated, almost chaotic. Coordinating two doctors, Bowers and Beck, lower and upper, as well as my personal physician. To say nothing about insurance, and the two people who will tag team in looking after me, my dear friend Deena and one of my sisters, Susan.
And then there's the projecting… like how in the world will I get by, if I'll be allowed to lift my arms just to my shoulders, and heft a grand total of five pounds, without running the risk of popping a stitch? I've got another very good friend, Paige, meeting me at baggage claim. Her job is to pull my bag off the carousel. But still. And what am I missing here?
My mother keeps pressing me that I should request a wheelchair at the airports for my return. I haven't decided yet. I'll see how I feel, the days leading up to my return. I'm stocking up on low sodium, non-perishable foods. I've made a series of tentative appointments for when I get back, all contingent on my being able to get about, and having the strength to get about. Who knows? I don't want to overdo it, but I also know I don't do well as a couch potato.
I went shopping yesterday for some things I thought I'd never, ever buy. It was sort of a throw-back to the days when I went to the drug store and bought razor blades, a deodorant and, oh yeah, I stuck into the pile a lipstick and mascara. Yesterday it was maxi pads and panty liners.
And the outcome was the same as it's always been. The checkout lady said, "receipt with you or in the bag?"
Gotta wear loose, button-down tops. Do you realize that 98 percent of the tops in any store have no buttons? They all go over the head. I wear a small or medium, depending on the cut.
I found some two-percenters, and bought them. Only to find out they don't even begin to fit. They were impossible to button. So I brought them back and exchanged them for large. What's up with that?
So I asked the sales lady, and we got into a typical female discussion about children, grandchildren, living in other places, working at a department store. When we completed the conversation, I said goodbye to my newest best friend.
Stents. Dilation. Yeah, I think I know what to do. But I also know that's a far cry from doing. Marci's instructions include bringing a small pocket mirror, so you know where you're going.
And then there's stumbling over new information. My laser woman, Daisy, had implants a few months ago. The next time I came in, she was all taped up. But I asked if I could touch them, and she said I could. I did.
I saw her again, for a final pre-op treatment, and she told me about how, initially, every bump that caused the "girls" to move, to jiggle, ever so slightly, hurt like mad. She said she slept at a 45 degree angle the first little while. With pillows all around her. Who knew?
I hung on the word jiggle. Wow, what a concept.
What size should I be? My mother… my mother!… keeps saying don't go crazy. Natural. Be natural. Yeah, ok, but what is that?
My plan is to look to the doc and my friend Deena. What do I know? I don't see myself in 3-D.
I had to sign a consent form that I agreed to be sterilized voluntarily… and permanently. Why? I thought that happened when I began hormones, almost two and a half years ago. Is it a law in California? Probably.
For the longest time, my feeling was that this whole thing really isn't that big a deal, that it just completes the picture, that I'll no longer be a "hybrid," that I'll be whole. And that'll be that. Now I'm not so sure.
It's the thrill. It's like when I got my official name change. My driver's license. My passport. Only more-so. Much more-so.
I asked my voice teacher, Lynn, about that, at our last pre-op session, yesterday. She said people she's worked with are all over the map. Some think the heavens will open for them. Some are ambivalent. Some are just simply ready and anxious to get it done and move on.
And afterwards? Increased confidence, she said. That's what she sees.
That's good! Now, what else do I need? Oh, yeah, disposable bed pads. What do they look like? I have no idea. Gotta find a surgical supply store.
Author Bio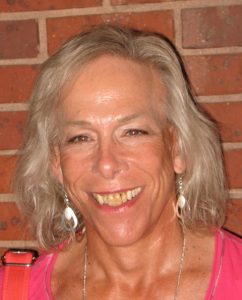 New York native, Danielle Badler embarked on a writing and communications consulting career in early 2007, following more than 30 years in corporate communications, the last ten as the chief global communications officer for three Fortune 500 companies. That experience involved six corporate relocations, including a year in Lausanne, Switzerland.
Her work includes facilitating executive peer group meetings for The Conference Board in New York, as well as regular articles and columns for the Porsche Club of America, TFLCar.com and planet-9.com.
Danielle is also very active in community involvement, as the Board President of Alliance Francaise de Denver and a board member of the National Federation of Alliance Francaises, as well as a member of the Rocky Mountain Automotive Press Association. She is also on the Board of Directors for the GLBT Center of Denver.
A graduate of Case Western Reserve University, where she co-edited her college newspaper, Danielle now calls Denver home. She can be reached at rdbadler@gmail.com.