Reader Q&A: I'm Transgender & Feel Totally Alone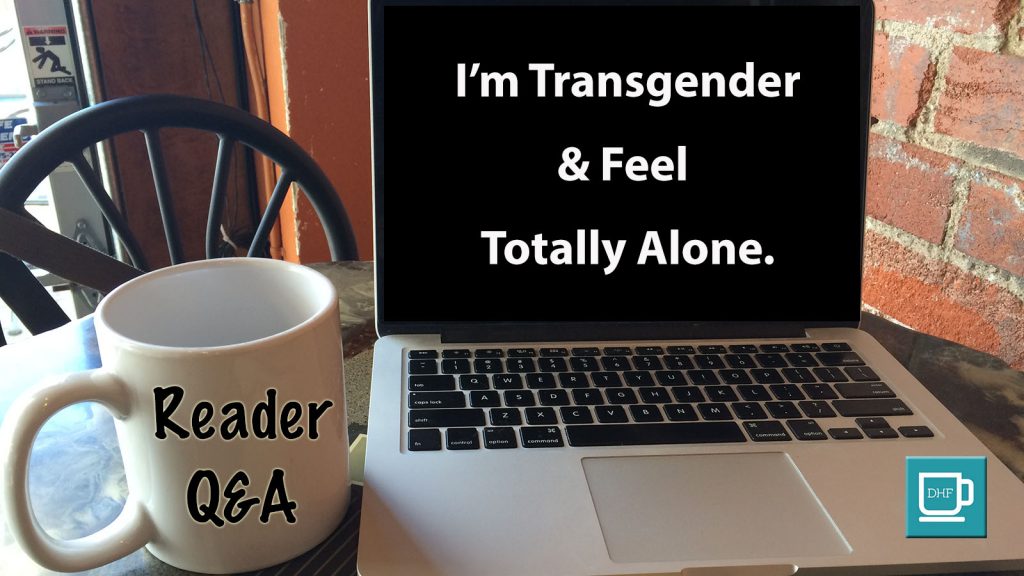 Welcome to the another installment of READER Q&A on the darahoffmanfox.com | Transgender Education & Resources website.
This is a regularly featured segment in which I share with you conversations I've had with readers (as well as watchers of my YouTube series ASK A GENDER THERAPIST) in which they ask questions and I do my best to answer them.
Please note: Regarding today's question, it would be fantastic if you could share any additional resources with this reader! Please leave them in the COMMENTS section below the post. 
Also, this reader identifies as a transgender female, therefore some of the resources are specific for that population. I'll be sure to have a future post to address resources for transgender males!
Let's get to the question…
Dara,

I feel like no one understands me as a transgender person. I don't really have any friends, and my family isn't really that much of a support (I'm not that close to my family). I live in (a southern state in the USA) and i don't know of anyone I can talk with about the issue I am having. I am at a lost and don't know what to do. I don't really have a gender therapist, but i do have a therapist for depression. I would like to see a gender therapist but not sure about how to do it.

I get told to go here and there, but nothing has helped me. I'm right back where I started, with no one to talk with and feelings of being alone. I need help.

Thanks.

—S.
Dear S,
What you are struggling with is something I have heard so many people bring up to me, and my heart goes out to you. 
What I suggest is that you find 1) Resources and 2) Friends.
Let's start with finding these online, especially since you live in an area with little to none support to offer.
Thankfully nowadays there are SO many transgender resources on the internet! I'm going to go through them one at a time.
Online Support Groups/Chat Rooms/Forums
Here's a list that I've begun to form of ways to connect with others online. These recommendations came from transgender folks who have used them and have found them to be of great use (of course you'll want to exercise caution when first getting to know someone online).
Readers of this blog post – leave your suggestions for other sites in the Comments area below!
Empty Closets *see feedback in readers' comments below
http://www.lauras-playground.com/
www.reddit.com/r/asktransgender
www.reddit.com/r/transpositive
YouTube
YouTube is becoming a "community" where you can find friendship and support as well.
There are also a lot of people who create YouTube videos about their experiences with being transgender. You can search specifically for certain topics and issues you are struggling with and see who else has talked about them. Read through the comments on the page, and leave your own comments too!
I have a videos that I have created as well (Ask a Gender Therapist is my current series) – you can take a look at those and see what sorts of conversations people are having about them.
Facebook & Other Social Media Outlets
Facebook has become an incredible resource for finding support in recent days! If you don't have a profile yet it's really easy to do so.
Also, many of my clients and friends have created a "new" profile that is for their true selves that is separate from any other Facebook profile they currently have.
Okay, so firstly you can find groups to join. Here are just a few I've come across, you can search for many more:
I even found three that are in the state in which you live! Just type in Groups named "Transgender (Your State)" into the search box.
You can also connect with individuals on Facebook to form a supportive community of your own. Feel free to send me a Friend Request and, if you are comfortable, I can introduce you to my community and let them know that you are looking for support and friendship. I guarantee you will end up with new Facebook friends by the end of the day!
As for other social media outlets, I've heard of people finding connection and friendship through Tumblr, Instagram, Twitter, and Pinterest.
Connecting Locally
Once you have been online for a while you can start asking around to see if anyone knows of resources in the state that you live. You might even meet individuals who live in your state who you could end up meeting in person! (again, use your discretion and be safe when first meeting up with someone).
The reason I know this works is because I've seen it happen with my own eyes. You'll be amazed by just how much people truly want to help. Many of them have either been where you have been or currently are there as well. That's how community is created.
But you do have to take the first step of putting yourself out there.
Finding a Gender Therapist
I have a couple of videos that might be of help to you when it comes to finding a gender therapist in your area.
How to Find a Gender Therapist
Nervous About Meeting a New Gender Therapist?
Again, you can also ask your online communities if they have had any luck finding a gender therapist in your area as well.
Lastly, by all means if you are feeling especially in crisis, you can call the Trans Lifeline at 877-565-8860.
I know I've given you a lot to think about, so just pick one item in this message and take action on it today. The snowball effect will lead you to finding friendship and support throughout the world! Don't give up. 🙂
Best wishes to you…
Dara