How Little Me & Grown-Up Me Feel About Winning Awards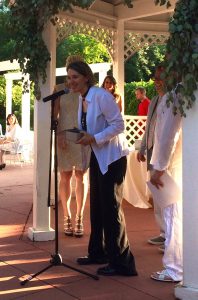 I'll admit, I was pretty excited to open up the Colorado Springs Independent this past Wednesday. Slipped in between its journalistic pages was an insert entitled Inaugural Independent Inclusion Awards: Celebrating LGBT Leadership and Achievement of Individuals and Companies in Southern Colorado.
I found out about two weeks ago that I was selected for this award, along with nine other fabulous persons and companies…
*Dissolve into flashback sequence*
When I was a youngster I wanted to win awards and contests. Like, super badly. Didn't matter for what – soccer, band, spelling bee, class vice-president, radio station contests, bowling trophies… I struggled so much with feeling invisible that I just wanted to be seen. Winning an award or contest made me feel special, even if just for a few moments.
I think back on this as I remember what my reaction was to finding out I won an Inclusion Award. A mixture of surprise, bashfulness, and peace.
As I sat down to write this I wondered why forty-year-old Dara feels differently about receiving accolades than fourteen-year-old Dara?
Ironically, there's a reason I don't feel invisible anymore. And that reason has so much to do with why I do what I do that ended up getting me this award.
Hm, that made total sense in my head.
What I mean is, I stopped feeling invisible once I began to see myself for who I really was. Not only my sexual orientation, although that was one of the first steps that got things going.
To steal from the name of the award I'm getting, I became inclusive within my own self. Once I began to open up to myself I realized I did indeed have likes, dislikes, interests, opinions, ideas, strengths, weaknesses…I got to know all of the various sides of me—understanding them, and eventually embracing them (well, it's still a work in progress, but such is life :)).
This "discovering of one's true depth" has become the cornerstone of my counseling approach, as well as my approach to life. And I couldn't have done that without having gone through it first myself.
Which brings us to today.
One thing I discovered about my own "true depth" is that I have a mission to make this world a better place for those who are transgender. And yes, there is a lot that I do in my pursuit of that, which is why I am one of the recipients of this award.
But in all honesty, it's not hard for me to do this. At all. I really do mean it when I say this is my mission—in other words my "calling." I am called to do this.
That's why it felt peaceful when I found out about winning this award, instead of it temporarily satisfying a need to be seen as special.
It reminded me that I am indeed on the right track. That I am in alignment with a life purpose.
It also meant I got to go to a kick-ass party.
Read the "Introduction to the Indy Inclusion Awards" article, as well as the "Recipients of the Inaugural Independent Inclusion Awards 2014" article from the Colorado Springs Independent here.