Reader Q&A: Do I or Do I Not Have Gender Dysphoria?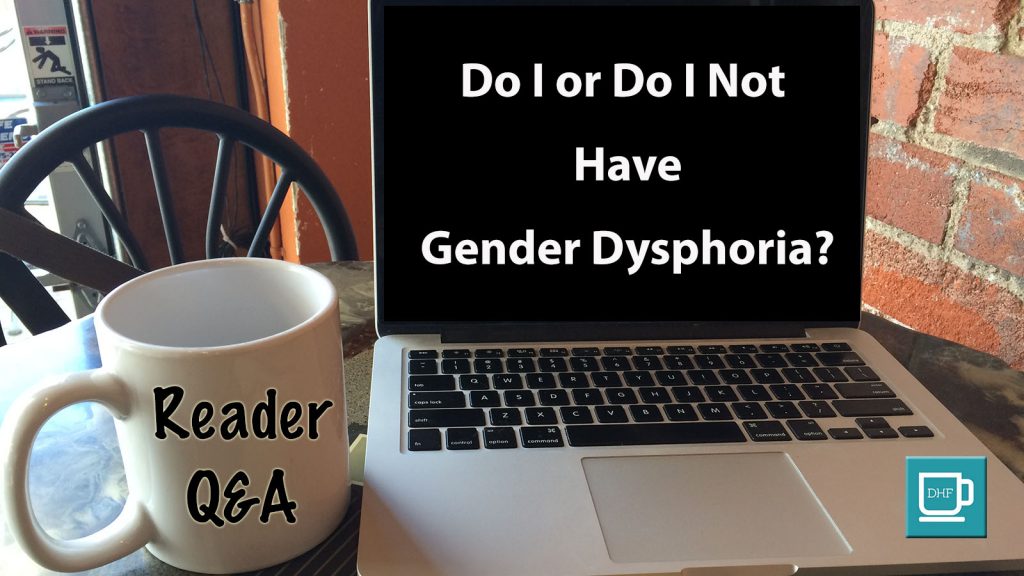 Edits made July 2018
Welcome to the another installment of READER Q&A on the darahoffmanfox.com | Transgender Education & Resources website.
This is a regularly featured segment in which I share with you conversations I've had with readers (as well as watchers of my YouTube series ASK A GENDER THERAPIST) in which they ask questions and I do my best to answer them.
Let's get to the question… (edited for length)
Hello Dara,

I've been questioning my gender for around a year now. I'm not sure if I am transgender or not, and I needed some advice on whether or not my experiences/feelings were that of gender dysphoria. 

Ever since I was a kid, I had the hunch that something was different about me… I remember I made this one doodle titled "diagram of a naked woman" (its contents were self-explanatory) and I made fun of the curvaceous female anatomy, unaware of my pubescent destiny.

Girly pink dresses grossed me out, but so did ratchet skater boy attire. I never said "I'm a boy" or tried to pee standing up, which is the main reason that I excluded being transgender as a possibility for me. I always saw myself as kind of genderless. Sure, my parents would want me to be a "good girl" and all that, but I just sort of agreed because I didn't know there was anything else I could have been.

(As) I listened into the puberty education video for girls in health class, I didn't think puberty would apply to me. Yeah, sure, I was told I was going to be a "lady" someday and bleed out of my vagina and grow a nice pair and get fertile childbearing hips, but I didn't really believe that. I thought I was somehow exempt from the female puberty.

When I started menstruating, I had a constant, subtle, unnerving confusion. I got that "wait, what?" feeling as I finally realized my anatomy. I always felt that my figure wasn't inherently mine, but I felt that since I couldn't really change it to what I envisioned, I'd have to make do with wearing my baggy clothes.

(In high school) I was the black sheep in my all-girl's school: from personality to gender expression. I went through a phase where I wanted to lose weight in order to achieve what I now realize was a more male-appearing figure. Every guy I dated or danced with, I tried to out-man them. I insisted on driving, paying, leading the dance. After I went to prom with a guy, I knew I wasn't cut out for the dating scene; I liked girls better anyways. But even in the butch lesbian community, I felt like an outsider, even though I fit the definition to a T.

High school was also the time I started expressing androgynously. But when I put on my masculine clothes, I looked in the mirror and was disappointed because I didn't look like a guy, just a girl in guy's clothing. The first time I bound my chest down, I squeezed myself with an ace bandage until I was flat. I threw on a shirt, looked up in the mirror, and almost cried because I looked so complete, so me. My first thought was "Oh, so that's what was wrong", and I spent the rest of the night euphoric, now that I looked like me. The part that topped it off was when I used makeup to contour and highlight my facial structure from soft curves to masculine angles. I still keep those selfies, and I feel so whole and happy when I can present as male, or even androgynously.

And now, fully post-pubescent, this body is here for good. Looking back, when I started dressing masculine, I felt so incredibly complete. That happiness when presenting as male made me realize that I wasn't happy being female before. Someone asked how I would feel if I could never change my body, if it would stay female like this for the rest of my life. The second she said that, my heart dropped into my stomach, the dread just overcame me. And when I put on my masculine clothes, I expect to see someone male or androgynous in the mirror, but I'm taken by surprise every time I see my reflection–a girl in guy's clothes. It's like my figure ruins how I present myself.

I know this sounds very much like dysphoria, but I still have doubts. I was never an inherently macho person, never wished I had a penis, never had all-male friends, never had that trans narrative. When I compare myself to the guys that have these experiences, I doubt myself for ever thinking that I might be trans. And at this point, I just don't know anymore.

I'd appreciate any advice or opinion of my possible gender dysphoria. Thank you so much.

Sincerely,

E—
Hi, E—
Firstly, I want to assure you that the question on your mind is one that I hear more often than anyone else: "Am I Really Transgender?" which can sometimes also be known as, "Do I really have Gender Dysphoria?"
Right on the heels of that is usually, "Just how bad is my Gender Dysphoria, and what should I do about it?"
Although the final answer is yours and yours alone to conclude, I'd be glad to offer a few thoughts to you on this.
E—, you may feel silly, weird, or "crazy" for having to ask yourself these questions.
But keep in mind, there are a lot of people out there who are quite comfortable with their assigned gender at birth. In fact it really doesn't even occur to them to think about it.
The fact that you are asking yourself these questions means that, on at least some level, you might have Gender Dysphoria.
Let's look at one of the "official" definition of Gender Dysphoria, as stated by the World Professional Association for Transgender Health (WPATH).
(Gender Dysphoria) is broadly defined as discomfort or distress that is caused by a discrepancy between a person's gender identity and that person's sex assigned at birth (and the associated gender role and/or primary and secondary sex characteristics).
Let's break this down into a few steps.
1. You were assigned the gender of "female" at birth. Are you completely comfortable with this? From what you have describe in your email, I'm going to guess your answer is "no."
2. The next question to ask yourself is, "Why am I not comfortable with this?"
There are some people who feel fine being seen and known as the gender they were assigned, because their minds and bodies match that gender (think of it as it being a coincidence that their genitals happened to match their felt sense of gender).
But that doesn't mean they don't struggle with the gender role expectations that have been placed upon them, and that they might desire to reveal either more masculine or feminine qualities than they already have been.
There are others who experience a definite disconnect between the gender they were assigned at birth and the gender they really experience themselves to be. And there are others who feel a disconnect that is more moderate in its experience.
The two strongest indicators of this discomfort is the level that someone feels by how they are seen socially (i.e. in your case you are seen socially as a female), and the level of discomfort someone feels with their physical body and the way it functions (i.e. you having a physically female body, including going through menstruation).
Another indicator that is a little more difficult to figure out, but still very relevant, is the way you think and feel. Feeling like there's something "not quite right" about the way you process information, experience emotions, respond to sexual thoughts, etc.
Check out this image that @CassieBebop was inspired to create after reading this blog post: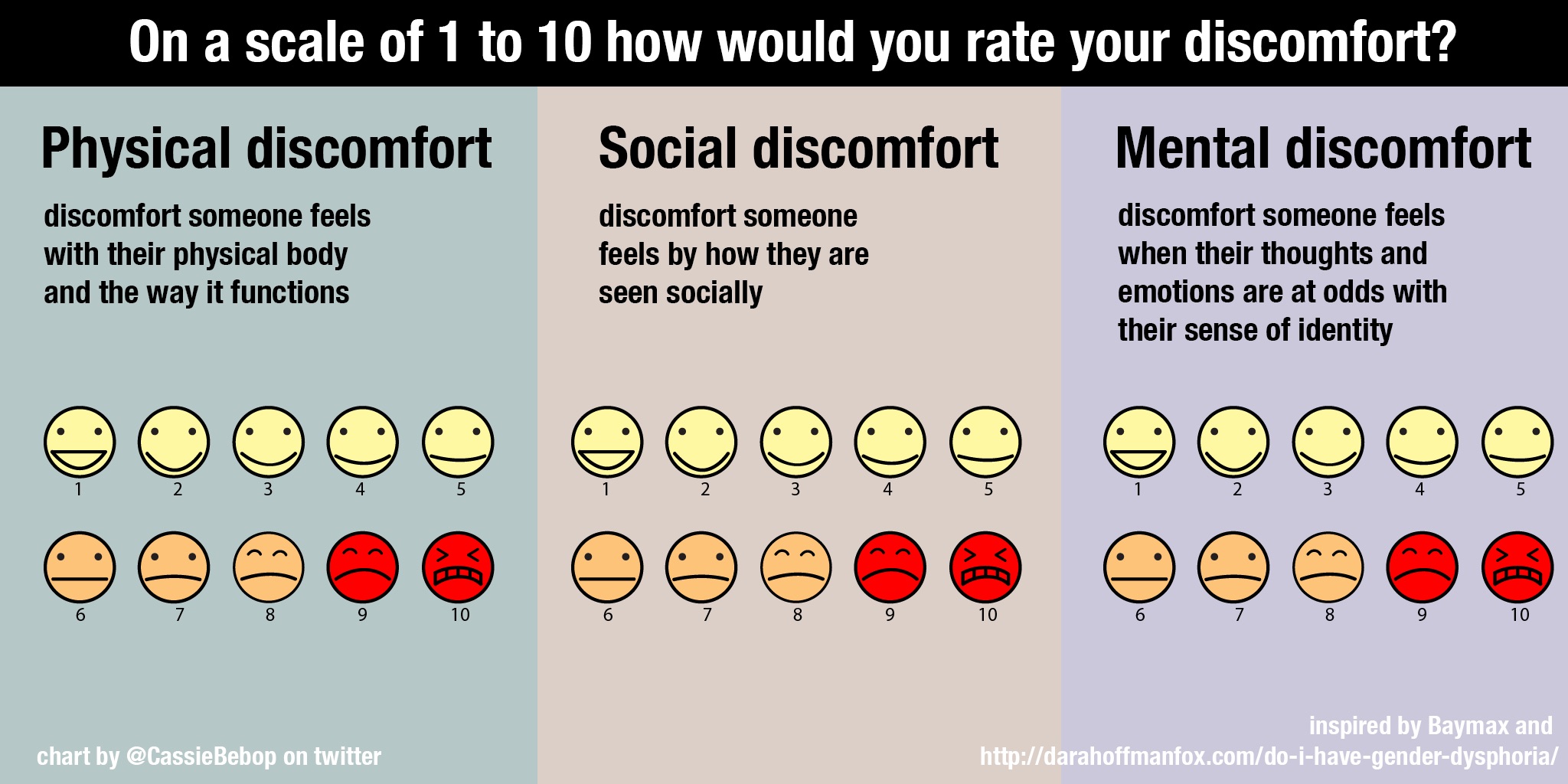 3. To what level or degree of discomfort do you experience the areas mentioned in #2?
That's right, there are countless ways that someone can answer "yes" to the question, "Do I Have Gender Dysphoria?"
That's because every individual is different. If it were a scale of 1 to 10, with 10 being the worst, you might place your body dysphoria close to a 10, while your social dysphoria may be a 7, and your "mental discomfort" score might be more like a 5 (just throwing out numbers here).
Bottom line is, there is no "right or wrong" way to be trans, or to have Gender Dysphoria. It covers a very wide range!
That includes your question about whether or not you have Gender Dysphoria because you haven't fit into the "typical male stereotype." There are many, many experiences of what it means to identity as male in this world. There are also many different trans-narratives out there, and yours is just as valid as anyone else's.
It also sounds like you were raised in somewhat of a "genderless" home, which means you may not have noticed extreme gender discomfort as a kid. The fact that your discomfort became more noticeable during puberty is of more importance to note.
Remember, be careful about comparing yourself to others—doing that too much will stand in the way of you finding your truth.
Comparison is the thief of joy. – Theodore Roosevelt
Let's sum things up.
From what I hear you saying in your email, you feel strongly that you do not identify, nor want to be identified, as female. How far towards the "male" side of the spectrum will you end up wanting to go? Take it a step at a time, and pay close attention to how it feels as you move farther away from female and more towards male (keeping in mind there is an entire nonbinary spectrum as well!). Eventually you'll find your "sweet spot." 🙂
Before I go, here are a couple of additional resources for you:
How Do I Know if I'm Transgender? is a video I made that gets more into the process of getting closer to figuring this out
Matt Kailey wrote a great post regarding this topic on his blog Tranifesto called "Gender Uncertainty is Stressing Me Out!"
Not All Transgender People Have Dysphoria—And Here Are 6 Reasons Why That Matters by Sam Dylan Finch
Trust your instincts, E—, and seek out support from those who understand and encourage you.
All the best,
Dara