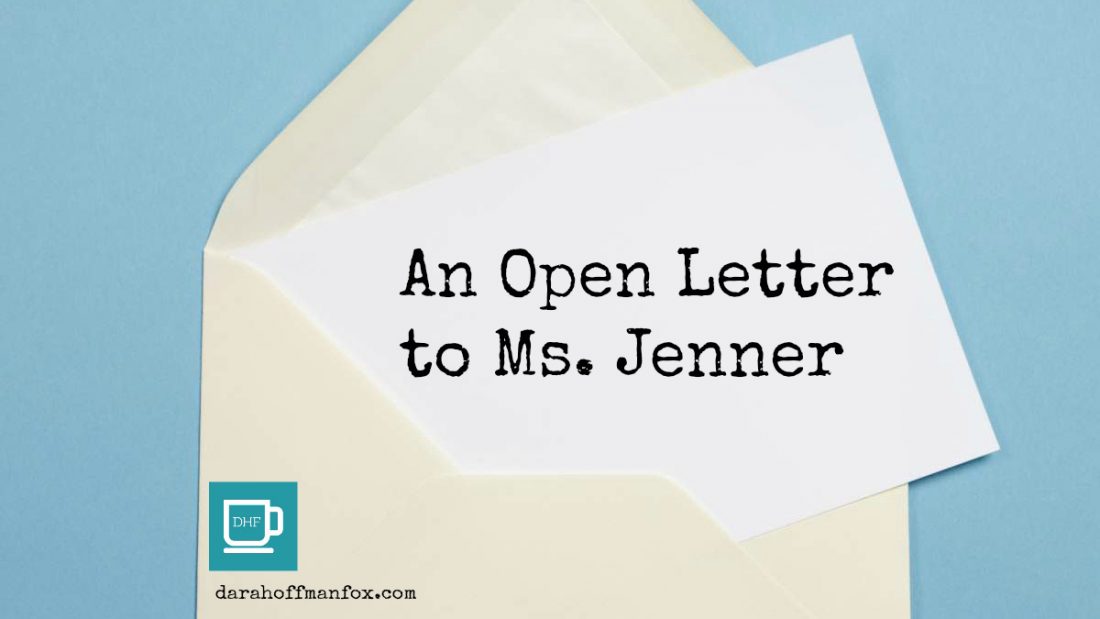 An Open Letter to Ms. Jenner
Dear Ms. Jenner,
I was only two years old when you won the gold medal in the Olympics. But I've always known who you were, even if I didn't quite know why I knew who you were. Like Marilyn Monroe or Princess Diana. An icon whose face "everyone can name," you were not so much a person but a symbol, an archetype. An image that people had of you since the 1970's that, for some reason or another, defined "masculinity" and "raw male power."
All the more challenging for some folks to wrap their minds around the fact that you are actually a woman. All the more challenging for you to have to come out and explain this to everyone.
I work as a gender therapist in Colorado, as well as working in the capacity as an educator and advocate for the transgender community. This means I have worked with, befriended, and supported literally thousands of individuals who identify as being uncomfortable with their assigned-gender-at-birth.
With this being the "hat" that I wear, I came into watching your interview last night with Diane Sawyer with a multitude of feelings. My partner and my daughter joined me with equal amounts of anxiousness, since by now they pretty much know what I know and are strong allies to the community.
As the interview began we had feelings of nervousness as we wondered how Diane Sawyer was going to handle things. Feelings of discomfort and frustration as we heard her use certain phrases and words that, although unintentional, can lead to more confusion. Feelings of protectiveness, as we watched you so exposed and being asked the most personal of personal questions.
As the interview went on we were gradually able to relax.
Firstly, I wish ABC had mentioned earlier in the segment that you chose to stay with the he/him pronoun that everyone's been accustomed to, because it was a huge distraction up until that point! However, once Diane mentioned that this was not an oversight on her part I was able to (somewhat) move past the discomfort of hearing male pronouns being used in reference to you.
I also had to remember to put aside my almost ten years of experience of working with the transgender community and remember that Diane Sawyer, like many of the people watching the interview, is still in "Trans 101" land. She was curious, open to understanding, and fairly respectful. I'm not sure why the decision was made for her to not conduct at least a little more research into the transgender experience—honestly any of my non-transgender but trans-friendly friends could have handled it just as well as she did.
But all in all I could tell that she genuinely liked you, and wanted to do her best to give you a platform to share your story.
Most of all I was able to relax because of you just being you. I had no idea what your personality was like before this, since I've steered clear of Keeping Up with the Kardashians (no offense 🙂 ).
What a pleasure to discover that you are quite a delight! You made a point of keeping a sense of humor. You were upbeat and positive. You were oh so very patient with those "Trans 101" type questions, knowing that if Diane Sawyer is asking it then there must be thousands of others wondering it as well.
You maintained your privacy when you were asked something you weren't ready to officially comment on, knowing how easily the press would be "all over that."
And you made it abundantly clear that you want your "coming out" to make a positive impact on society's understanding of what it means to be transgender. I have no doubt when I hear the feedback from my clients over the coming week that I will hear words of hope and encouragement, especially for those who are also coming out later in life.
I would be remiss to not mention some of the "arguments," if you will, from persons who feel there were things you said that give them permission to doubt whether or not you are truly a woman.
That's suspicious that Jenner asked to have he/him pronouns used during the interview.
It's my guess that this was a strategic and smart move on your part. As I've seen from my work over the years, when you come out to someone it's best if you take it a step at a step, so as to give them a chance to process and adjust. Sitting a spouse, family member, or friend down and saying, "In the near future I'll want you to address me using female pronouns. But I understand and respect you won't be ready to start that today."
You just came out to the entire planet! You are modeling something that, in the long run, will lead to a higher chance of long term understanding and adjustment.
How come you don't know what your female name is, or want us to start using it yet?
Of course you know what your name is! You've probably known for many years. It is your choice to decide when to let us know what that name is. Again, you were laying a lot of new information on a lot of people last night, so bringing in what your name will be would only have caused a distraction (which you specifically addressed, "The press would jump all over that"). This is a matter of privacy, and a smart move as someone who is already being so highly scrutinized by the media.
You haven't had surgery yet???
First of all, I was appreciative to hear Diane make a very clear point that it is not okay to ask someone who is transgender about "the surgery," and that you brought it up on your own. My guess is you knew it was on the minds of many of the viewers and therefore wanted to get the elephant in the room out of the way rather than pretend it wasn't there.
You offered an answer that revealed just enough information to let us know that it is on your mind, but also maintained your privacy about it. I love how you said that if/when it happens, it'll be so quiet that no one in the public will even know it. As well it should be!
Saying that you have it on your radar and are still weighing the decision has nothing to do with whether or not you are "truly" a woman. It is an incredibly serious procedure to undergo, just like any other surgery someone might chose or not chose to have. For example, having to take your age into account, knowing that although you are healthy that you are still a higher risk candidate for the surgery.
It's also true that having a vagina does not equal being a woman. Whatever your reasons are for wanting or not wanting the surgery, either now or later, are yours and yours alone. Good for you for not feeling like you have to defend or prove yourself in this regard.
Anyway, that's how I feel about that. 🙂
I avoided reading much commentary on the interview this morning, so as to allow me to share my thoughts with you without too much influence from others.
My guess is that there will be a mix of positive response, those who are still confused by at least closer to understanding, and the usual fear-based hateful responses. Please know there are literally hundreds of thousands of people who have your back!
You have challenges to face in the coming days, as well as great joys. Thank you for helping the mainstream get one step closer to understanding what this journey means by sharing your personal one.
I am excited you are ready to take this next step, and that you shared this moment with all of us.
With gratitude and affection,
Dara Hoffman-Fox, LPC