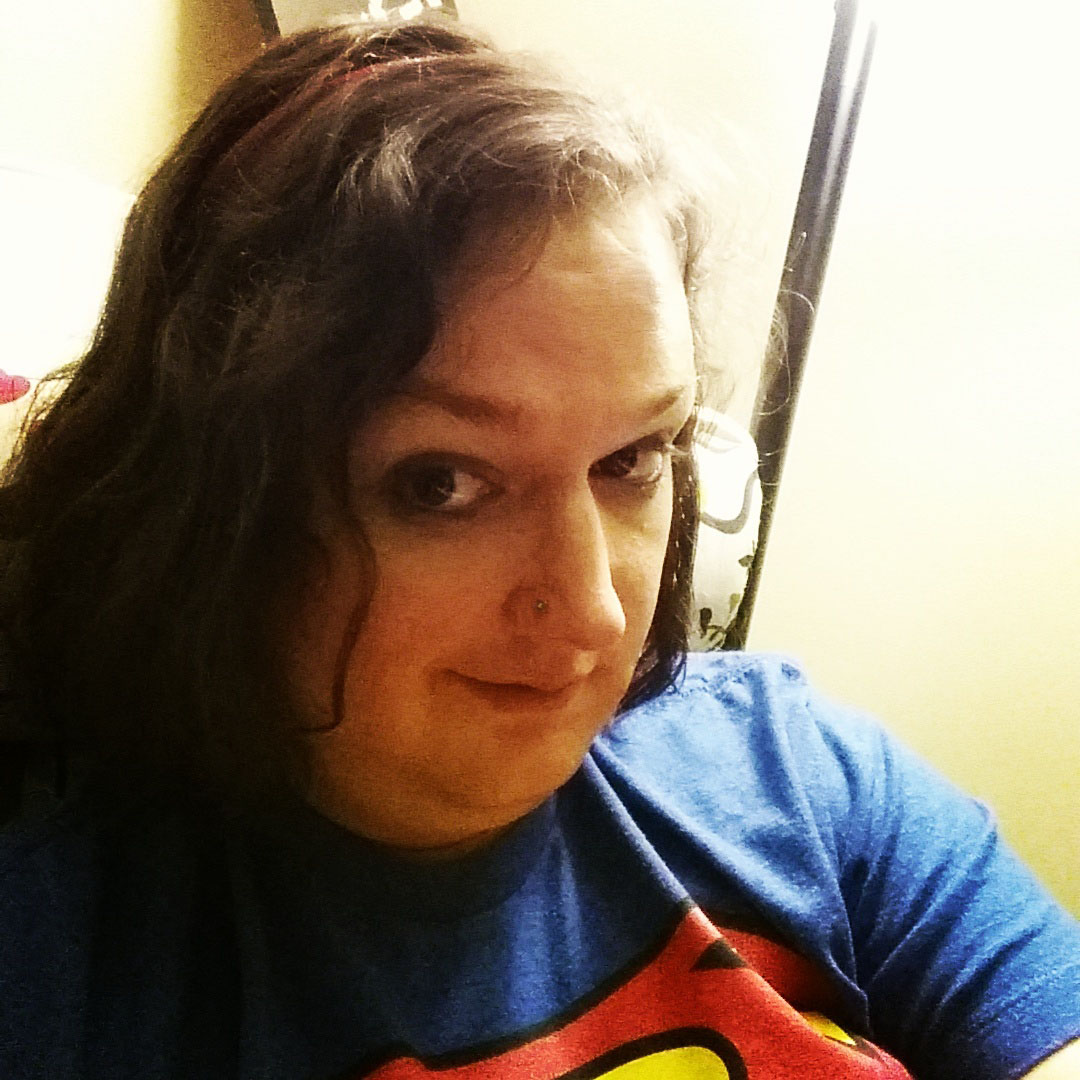 Why There is Nothing to be Afraid Of: A Transgender Perspective on Bathroom Laws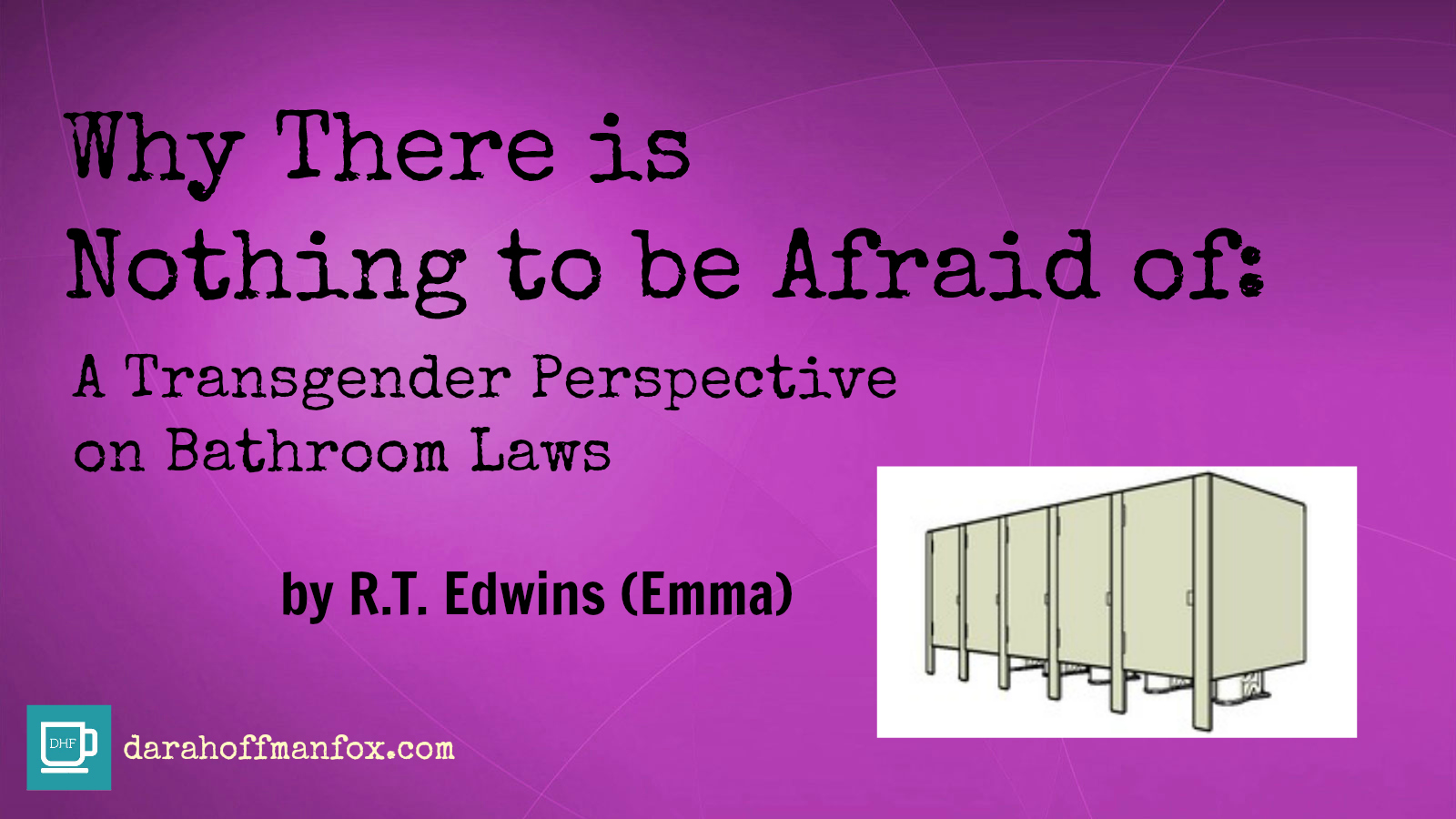 Guest Post by R.T. Edwins (Emma)
I am a transfeminine person. Many see me simply as a woman or a transwoman, and I use the women's bathroom every single time I need to go to the bathroom in public. I have used the women's bathroom so many times I can't even give you an accurate number. Suffice it to say that it has been at least a 100 different times. I have never, not even once, thought about how I could utilize this opportunity to attack, harass, or spy on the other women in that bathroom. I have never, not even once, tried to utilize these bathroom visits to satisfy some sort of sexual desire. I am a transfeminine person who is primarily attracted to women and have NEVER ONCE thought about my bathroom visits as anything besides visits to relieve myself.
I have, however, been very scared in the women's bathroom. I have wondered if I would be attacked, harassed or humiliated by the women in there. If a woman in that bathroom looks at me longer than a brief glance my anxiety goes through the roof as I envision her telling me I can't be in there, that I can't stay, or that I am some sort of pervert. I fear for my life and my dignity every time I go into a women's restroom because of the very misinformation that has led to states like North Carolina passing their recent law.
Worst still, is the anxiety I feel when considering what it would be like to have to visit the men's room in my current state and appearance. While my fear of being harassed, attacked or humiliated by women is significant, it pales in comparison to the fear I'd feel of experiencing the same at the hands of men. It is not only inappropriate for me to use the men's room, but it is downright dangerous. There has never been any report of a transgender person utilizing their bathroom privileges to harass or attack cisgender people in the bathroom. The opposite scenario is rife with danger, however, and state laws that force transgender individuals into the wrong bathroom only illustrate how dangerous ignorance really is.
We see pictures floating around the internet of extremely masculine transmen with taglines like "coming soon to North Carolina women's bathrooms" and the message is rather clear. It is not appropriate for these individuals to be in these bathrooms and putting a face to the reality of these oppressive laws does illustrate, to a degree, how ridiculous they are. Pictures and taglines, however, are not enough. Visibly seeing what will be happening can change the minds of a few, but we need more than that. We need the humanity behind those pictures. We need the voices, hearts, minds, and souls behind those pictures. It is one thing to see how ludicrous the law is when it forces bearded, muscle-bound men into women's bathrooms, but it is something entirely more to see below the surface to the dehumanizing aspects of the law.
I hope to provide at least a partial account myself but we need more than that. We need more voices speaking out. We need more accounts to be shared. They have to understand the humanity that we have within us so they can stop spreading their hatred and ignorance. I know it is a fight that is unlikely to be won. It is unlikely that people who adhere so ferociously to their dogma and read it in a way that says others are lesser than them will ever truly change, but even if just one person reads my words, or yours for that matter, and has a change of heart then that is a victory.
My name is Emma, I was born with male genitalia, and I was raised and socialized as a male. I spent the first 28 years of my life using male restrooms and living as a man. I lived as a heterosexual man and when I made the decision to transition from my male life to a transfeminine life, my sexual preferences came with me. I am still very attracted to women. I love women. I find their minds, their hearts, and their bodies lovely to behold and to touch. I still have sex with women, even as I present to the world as a woman, and I use the women's bathroom when in public. In my state of Minnesota the law is somewhat ambiguous on bathroom rights but it often operates on a don't ask, don't tell philosophy. It is most often left up to the individual to decide where they should be going and for many (but not all) transgender individuals that choice is pretty clear. I fall into that category. I look like a woman. I dress like a woman. I sound like a woman. I am seen as and treated as a woman by strangers. I am fortunate that more often than not people do not notice anything off about me and accept me as a woman, which is what I want from those who do not need to know more.
I have used the women's bathroom when other women were in it many times. I have even, as most women do from time to time, stood in line with a group of women waiting for an available stall to alleviate myself. I have chatted with those women in those lines. I have chatted with them as we examined our appearance in the mirror after washing our hands. I have had lovely, COMPLETELY NON-SEXUAL, interactions with women in women's bathrooms countless times and never once did it enter my mind to take advantage of that scenario for my own personal desires, AND I'M ATTRACTED TO WOMEN SEXUALLY!
If I, a transfeminine individual who is as attracted to women as most heterosexual men, can have a friendly, non-sexual conversation with a woman I have never met before as we wait in line to pee, then where is this dangerous sexual predator we hear so much about? By all accounts, I fit the exact qualifications for this transgender boogeyman these conservative politicians talk about when they push these laws through state legislatures. I was born male, I cross-dressed as a kid and a teenager, I made the decision to live my life as a woman (or something close to a woman), I am sexually attracted to women, and I use the bathroom with them on a consistent basis… so why haven't I attacked anyone or tried to spy on anyone while in that bathroom?
Maybe, just maybe, it's because this boogeyman these politicians try to force down our throats doesn't actually exist. Maybe, just maybe, we transgender individuals are in the bathroom just because we need to go to the bathroom. Maybe, just maybe, we don't have any ulterior motives for entering that most sacred of places where women and children go to pee. Maybe, and this could be a stretch for some I'll admit, I go into the women's bathroom to pee simply because I am a woman and I have the right to decide I'm a woman, and I have the right to know where the appropriate place is for me to pee.
Conservatives push and push again for government deregulation. They say government overreach is a true struggle of our time. They advocate deregulating our economy, our gun laws, our tax code, and our social services. They say that big government doesn't have the right to enter our homes and tell us how to live because we are Americans, and America is the land of the free. They talk about how we all have the ability to pull ourselves up by our bootstraps and that individual work and choices is what makes our country great, except when it comes to people like me.
When it comes to me, a person they refuse to understand and barely acknowledge even exists, it is not only appropriate for the government to step in and regulate where I can use the bathroom and where I can't (the most personal of personal freedoms, I'd argue) but it is MANDATORY that they do. They have to "protect" our free society from the menace of those who don't fit into their gender binary and their heterosexual worldview because they are different, and different, of course, means dangerous. Then, and only then, is it okay for government overreach to be tolerated, accepted, and enacted into law.
I cannot adequately express into words how disheartening this is as a transgender individual. I cannot put into words for you to understand the sick feeling I get in the pit of my stomach as I watch these politicians sign their bills into law with grins on their faces, like they are proud of their bigotry, hatred, and fear. I live in a state where one of these bills is being pushed through our legislature by these same conservative efforts to regulate where I pee. Luckily our governor has already said he will veto it, but he won't be the governor forever and there is no guarantee the next governor or the next legislature won't succeed where this attempt to make oppression the law of our state has failed. Multiple states have already turned these oppressive bills into laws.
I feel so powerless. So broken, and misunderstood, and defeated when I see what happened in North Carolina. I just need to pee. We all just need to pee. We aren't a menace. We aren't a danger. We've been here all along, peeing right next to you without you even knowing. We've been here forever, really. Transgender isn't a new thing, even if the term is new. We are humans. We have feelings, hearts, minds, and fears, and right now, we are afraid of the conservative pushback to transgender visibility. We don't deserve to be ignored, but we absolutely don't deserve to be oppressed further than we already are as a consequence of our visibility. Please don't buy into their boogeyman antics. Just because you may think we are different, doesn't mean we are dangerous. We are just people… just like you.
---
Author Bio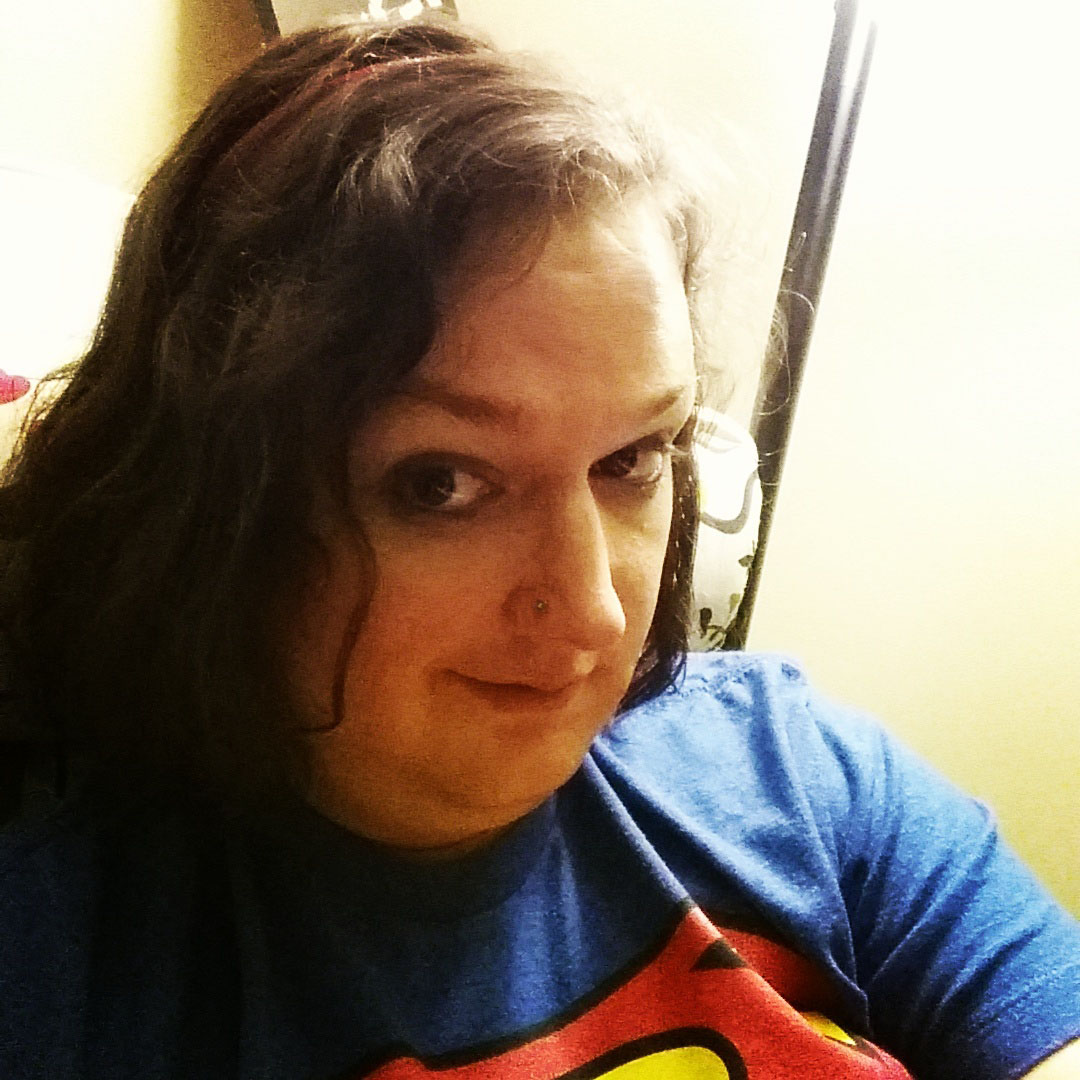 R.T. Edwins (Emma), is a graduate student at Saint Mary's University of Minnesota where she is studying to become a Marriage and Family Therapist. When not focusing on her studies she spends her free time authoring the blog Trans-Advent, the science fiction series Chariots of Heaven Saga (available on Amazon and iTunes), and other various fiction works. Emma can be reached at rtedwins@gmail.com