Reader Q&A: I'm Trans & Need Help with Religious In-Laws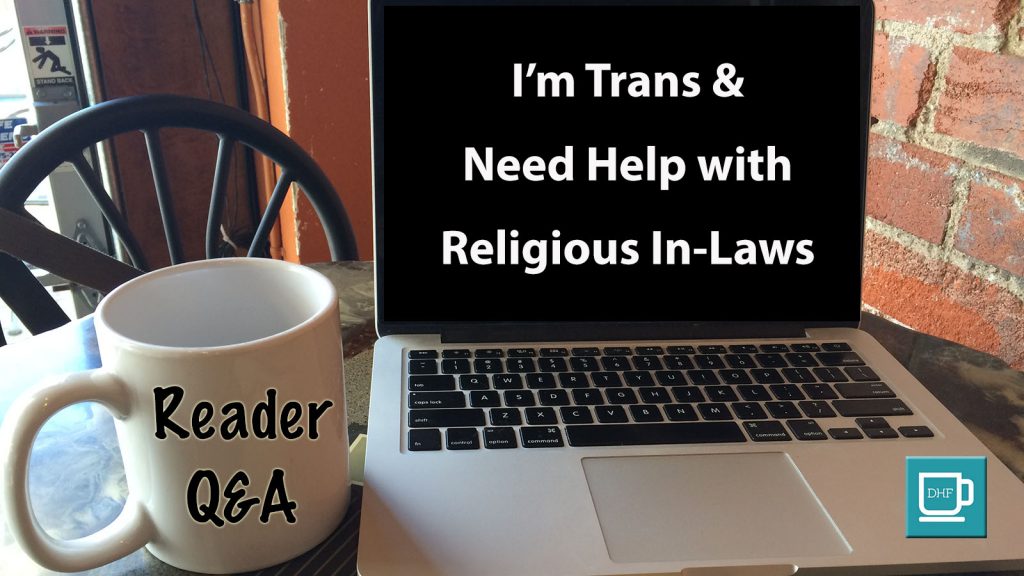 Welcome to the another installment of READER Q&A on the darahoffmanfox.com | Transgender Education & Resources website.
This is a regularly featured segment in which I share with you conversations I've had with readers (as well as watchers of my YouTube series ASK A GENDER THERAPIST) in which they ask questions and I do my best to answer them.
Let's get to the question…
Hi Dara,

I have a dilemma to ask you your thoughts on.

My girlfriend comes from a VERY Catholic family — she's the middle of 11 children, and her mom's the matriarch of all things family and religious — and I'm trying to figure out how to approach her family.

Recently I was not able to stay at my girlfriend's parent's house for a wedding in town due to my being trans, and ended up staying with one of the older sisters who's a lot more open-minded about me and my identity.

I've given my girlfriend at least three years to handle this by herself with her family, but I feel like it's my turn to contact her mother and set things straight with her as best as I'm able.

It's making me ashamed of being trans and having made all of this progress when I hear about her mom thinking I'll corrupt her younger siblings, or cause her siblings to ask questions that her mom is uncomfortable answering.

What advice would you have on this matter?

Cheers,
—B.
Hi B.,
Sadly I've had many clients run into the same predicament, either within their own family or their loved one's family.
Honestly, when it comes to deeply held religious beliefs that are either trans-ignorant or flat out anti-trans, I don't think it can be approached or dealt with in the usual ways.
They are more than likely very set in their beliefs, and therefore no amount of discussion will sway them. It'll only end up making you feel frustrated, and possibly re-trigger the shame that has come up in you as a result of their treatment of you.
However, depending on your girlfriend's mother's willingness to get to know you as a person, is there any chance for connection there? Agreeing to disagree with her that she will never think it's "okay" to be trans, but that if you both could put that aside, that you'd like a chance to have a friendly relationship with her?
Try to find ways to connect with her, such as taking interest in her interests (well, maybe not including Catholicism). Figure out her "love language" – does she like acts of service? Positive words of affirmation? Gifts?
What she won't realize till it's too late is that, by getting to know you as a person instead of hyper-focusing on your being trans, she'll end getting to know ALL of you. Which happens to include you being born trans!
Maybe when she is more willing to listen, after you can establish a different sort of relationship with her, maybe then she'd listen to reason? Especially the research out there about how being trans is a innate and not a "choice."
In summary, take the focus off of the trans topic and instead take steps for her to get to know you as a person.
She will still have her judgments, and you'll need to take deep breaths and talk about them with your girlfriend when they happen.
But in the end give her other things to focus on about you that takes her attention off of what she sees as a "sin."
In the end I think it'll cause her to, at the very least, back off of the judgmental comments. Even if she never changes her root belief.
Hope that helps, good luck to you!
—Dara