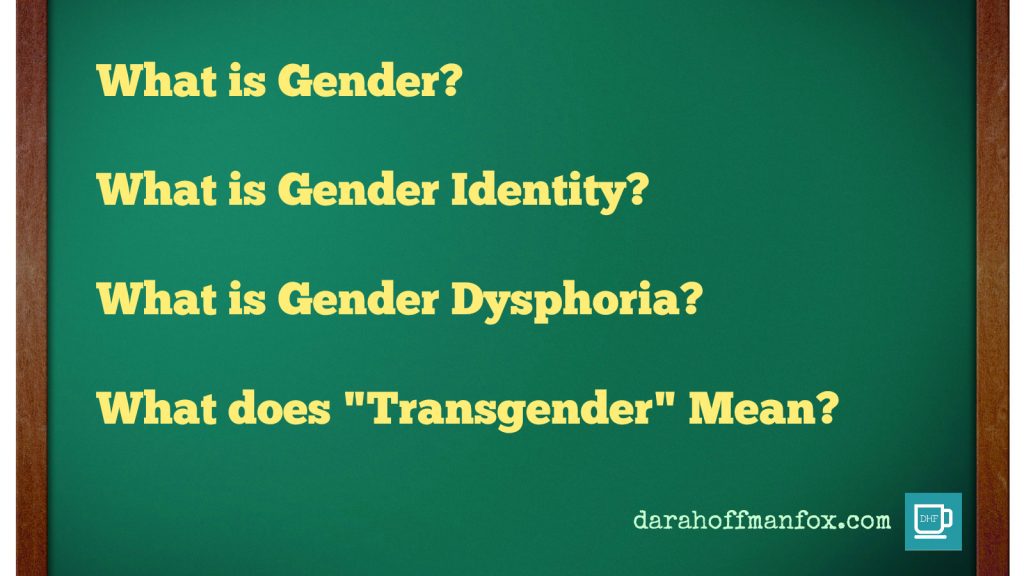 The following is a sneak peak at one of the "lessons" in my upcoming book series You and Your Gender Identity: A Guide to Discovery (tentative release date of November 2015). This one will appear in Guide Three.
Each lesson is going to start with an "Education Sheet" about the topic of discussion. Following the Education Sheet will be exercises for the reader to work through in regards to that topic.
Here is the Education Sheet for the lesson entitled, "What is Gender? What is Gender Identity?" Please leave any feedback in the comments below!
Education Sheet: What is Gender? What is Gender Identity?
A very common occurrence is for "biological sex" to be confused with "gender." Much like Shame and Guilt (as discussed in Guide Two), they are separate concepts that both end up being influential in determining one's gender identity.
Biological Gender (sex) includes physical attributes such as external genitalia, sex chromosomes, gonads, sex hormones, and internal reproductive structures. At birth, it is used to assign sex, that is, to identify individuals as male or female."

Gender is the complex interrelationship between an individual's sex (gender biology), one's internal sense of self as male, female, both or neither (gender identity) as well as one's outward presentations and behaviors (gender expression) related to that perception, including their gender role."

Together, the intersection of these three dimensions produces one's authentic sense of gender, both in how people experience their own gender as well as how others perceive it."
You were assigned a gender at birth based on the appearance of your biological sex*. As you can see, that presents a problem. It is impossible to know an infant's internal sense of being, or what their outward presentation or behaviors will be in regards to their gender.
This also means an infant is assigned a gender identity as soon as they are born. Oftentimes even while they are still in the womb. Infant's are told what the intersection of their biological sex, their sense of gender, and their gender expression should be. Based on having a penis (assigned male), a vagina (assigned female), or a combination of both (assigned intersex).
Indeed, in the grand scheme of humanity this is relatively new information to be digesting. We can't necessarily fault our parents and the doctors for going along with this. Even I went along with it when my daughter was born in 2001.
Biological sex does not determine one's gender identity.
What does?
How much you align with your biological sex +
Your internal sense of self as male, female, both, or neither +
Your Gender Expression
Gender identity is a combination of these elements, and allows a person to find a word (or words) to use to describe themselves. Someone may want to do this so they can search for resources and support using these certain words. They may have to find words to use to be able to address this with professionals such as therapists, physicians, or surgeons. They also may want to use these words to have a better sense of self, and claim it truly as an "identity."
And yes, gender can be "male, female, both, or neither." This is based on the fact that countless individuals across the world self-report not feeling aligned with the binary choices of either male or female.
It's also important to note that gender is "socially constructed." This means that every society is different when it comes to how they define gender, such as what "male" and "female" should look and act like, and if there's any room for discussion for non-binary gender identities.
More than likely you know what your society has as those expectations. The further away you feel what your society deems as "appropriate gender conformity," the more confusing and difficult your self-discovery process can be.
In Guide Two of You and Your Gender Identity: A Guide to Discovery we also looked at how collectives such as your family, peers, and community can be sub-societies that have their own constructs of gender. Again, depending on how different you feel from what these collectives believe about gender, the more intense your internal, as well as external, conflict will be.
The bottom line is that gender is a core aspect of who we are. Those who have never questioned their gender may not understand initially why this is true. I encourage these individuals to pay attention to how many times within one day they are gendered verbally (being addressed or referred to as a specific gender). Or are told to use a gendered space (public bathrooms, changing rooms, clothing departments). Or are treated as a certain gender ("Men should move the heavy stuff and aren't supposed to cry," "Women should sit together and gossip and pay attention to their attractiveness").
Gender is everywhere.
*Biological sex includes sex organs, chromosomes and hormones.
What does "Transgender" mean?
There is a lot of debate as to what "transgender" means. This is because everyone is different, and therefore has their own feelings about whether or not they connect with it as a word they would use to identify themselves.
It is additionally complicated because there's a lot of information out there that says, "This is the only definition of it and if you don't fit it then you really aren't transgender." This could come from some professionals, such as those in the psychology and medical fields, as well as some who identify as transgender and were taught early on that there's only one definition.
Here are a few options for definitions of "transgender," along with the pros and cons of each:
1. The "Transgender Umbrella." This definition tends to go with the idea that the word "trans" means "across or over" in Latin. So being "trans-gender" means you are, in some fashion or another, going "across" what gender usually is defined as. Therefore there are many options beneath the Transgender Umbrella. There's non-binary identities (such as androgynous, genderfluid, genderqueer), binary identities (such as male-to-female and female-to-male), as well as drag queen and king, intersex, crossdressers, and masculine women and feminine men.
Pros: For someone who is wondering whether or not they are transgender, the Transgender Umbrella allows for many options to chose from and therefore can make their search for an answer less complicated. "Why yes, I definitely find myself under there somewhere." This can help bring a feeling of community, belonging, as well as relief, knowing there are so many others who feel they fit somewhere under the umbrella.
Cons: There are many who feel that this very broad definition of "transgender" causes confusion, and therefore misunderstanding, for the general public. For instance, someone who has a binary transgender identity (male-to-female/female-to-male) is usually not a crossdresser or drag queen/king, and vice versa (although there certainly are exceptions to this). Someone who is non-binary may not want to transition in the same way someone who is male-to-female/female-to-male. Having all of those identities under one category of "transgender" may result in the layperson not understanding there are still differences between each gender identity under the umbrella.
There are also many who feel that "transgender" should be a word that is only used for those who are going to "transition," whether it be socially*, medically** or both. Therefore, again, opening the word "transgender" up to so many variations of gender frustrates those who feel it should not be used in this way.
2. Only those who medically transition (aka "Transsexual"). As mentioned in the first definition, this would be for those who see "transgender" as meaning someone who is going to transition, and more often than not by using medical means to do so.
Pros: You have probably noticed there are far more transgender stories being reported nowadays in the media than there used to be. The majority of the current mainstream stories profile people who are going through a medical (as well as social) transition from male-to-female and are identifying them as being "transgender." Therefore much of society is being taught that to be transgender means to transition medical and socially from their assigned-gender-at-birth to the "opposite" gender.
Although this is not the only definition of transgender that is out there it is the one that mainstream society is being first introduced to, and therefore might become attached to. Therefore if you fall under this description of transgender, it may be easier to explain to others, as well as yourself, what this means.
Cons: Although it may not have yet hit the mainstream, the word "transgender" is being used by far many others than just those who have medically transitioned. Using it in the restrictive sense as described in the "pros" will, eventually, no longer be accurate. With this being the case it may make more sense for those folks who wish to distinguish themselves as being separate from gender-variant identities to use "transsexual" instead, as it has remained fairly consistent in it's definition of using medical means to transition to the "opposite sex."
However, keep in mind that the word "transsexual" has fallen out of favor over the last few of years because it has the word "sexual" in it, which can be misleading. It also has been used, usually in a derogatory fashion, as a synonym to "transvestite," which is not the same as being transsexual. Again, it should not be used by anyone who does not feel comfortable doing so.
3. Not using the word "transgender" at all, even if someone experiences distress with their gender, or using "transgender" only for a certain amount of time. This pertains to those who feel that the word "transgender" is a label that, for their own personal reasons, they do not want to associate with as a descriptor of their experience. And/or they decide there is a certain point in their transition where they no longer feel need to be called "transgender" because they have become, according to their definition, fully the gender they truly are meant to be.
This doesn't mean these individuals don't experience intense emotional and mental anguish as a result of their struggles with their gender. But they may describe it, instead, as "a birth defect," a "medical condition," or "a hormonal imbalance." They may be forced to have to identify as "transgender" for the sake of getting proper medical attention, but otherwise would prefer to never have that word used to describe "who" they are as a person.
Pros: I've heard this option appealing most often to those who, after having the condition remedied, identify as "female" or "male" and do not feel the need to add "trans" or "transgender" to the beginning of that. Everyone has the right to identify however they wish, and this gives those who connect with this as their experience to feel they have an option to do so.
Cons: The challenge with this is there will always be people who will want to label you as transgender. This could be medical professionals, therapists, family members, co-workers, society as a whole… No matter how many times you tell them that you do not want that as a label attached to you. It also can be difficult to find resources, community, and information without having to use the word "transgender" to find them. This can prove frustrating, as well as negating one's desire to be seen one way and yet being put into a box they do not want to be put into.
*Examples of socially transitioning are when someone changes their gender pronoun, changes their name, and/or changes their gender marker and asks others to respect this change.
**Examples of medically transitioning are when someone starts Hormone Replacement Therapy, has surgery to reconstruct their face, chest, and/or genitals to align themselves more closely with their true sense of gender.
What does "Gender-variant" mean?
On my website, darahoffmanfox.com, I recently changed my motto to read, "Empowering, encouraging, and supporting transgender and gender-variant individuals through education and shared experience." I changed it from saying it was only for "transgender individuals" because I realized that, as you can see from the variety of options we just discussed, there are plenty of folks out there who experience discomfort with their assigned-gender-at-birth but do not feel like the word "transgender" describes them. "Gender-variant" offers another option to those who are seeking a way to describe their experience without having to put themselves into a category they do not feel truly fits them.
Gender-Variant: A person who, either by nature or by choice, does not conform to gender-based expectations of society.*
Some have said that separating the different experiences of gender into "transgender" and "gender-variant" allows for a clearer designation between those who suffer from intense Gender Dysphoria (see below) and those who wish to explore and express their experience of gender in way that is different from what their society expects.
Someone may also identify as both transgender and gender-variant. This could look like someone who doesn't feel aligned with their assigned-gender-at-birth and, additionally, desires to to bend the rules of gender expectations.
Learning there is an option such as "gender-variant" is something that brings many individuals as sense of relief. They may not have been able to put words to their experience before then, thinking they had to abide by a certain criteria in order to claim the right to feeling uncomfortable with the "norms" placed upon them based on the gender they are perceived as.
*"Gender expansive" and "gender creative" are also used to describe this experience.
What does "Gender Dysphoria" mean?
Gender Dysphoria is a term most often associated with being a diagnosis given by therapists and medical professionals to a person who is experiencing "discomfort or distress that is caused by a discrepancy between a person's gender identity and that person's sex assigned at birth and the associated gender role and/or primary and secondary sex characteristics" (World Professional Association for Transgender Health Standards of Care for the Health of Transsexual, Transgender, and Gender-Nonconforming People, Version 7)
The term Gender Dysphoria was created by the writers of the 5th Edition of the Diagnostic and Statistical Manual of Mental Disorders (DSM), which was published in 2013. This manual has been around since 1952 and is used by researchers and clinicians to diagnose and classify mental disorders.
Prior to that, the name given to those who struggled with their gender identity was "Gender Identity Disorder."* It was determined that the name was too stigmatizing due to the insinuation that having discomfort with one's assigned-gender-at-birth is a mental disorder. It is still included in the manual to allow those who need to seek medical attention for their Gender Dysphoria to be able to (in theory) use their health insurance to do so and to give clinicians terminology to use in regards to the patient's care.
However, the term Gender Dysphoria is not limited to only those who have been "diagnosed" with it. Although this wasn't the original intention of the writers of the DSM-5, the term eventually evolved into a way for any individual to use to describe their discontent with their assumed gender. It can be used by anyone who wishes to use it to describe their experience, as well as it varying in degrees of intensity.
Let's look at the difference between these two through examples:
1. P. visits a gender therapist because they are in need of being diagnosed as having Gender Dysphoria. They need the therapist to document this as their diagnosis so they can begin Hormone Replacement Therapy and to eventually have chest reconstruction surgery. These medical interventions will be used "so as to alleviate the distress of the patient's Gender Dysphoria."
2. G. is not sure yet if they want to use medical interventions to assist them in feeling more aligned with their true gender identity. However, they use the term "Gender Dysphoria" to describe their experience, even though they've never been diagnosed as such. The term speaks to the feelings of discomfort they have in regards to their assigned-gender-at-birth, and gives them a way to describe it to others.
Many of my clients use this term as a way to describe to me how they are feeling. For instance, "My dysphoria was really bad today." "That incident really made my dysphoria kick in, hard." This could be a result of something that happens to them in a social situation, and/or if they experience strong feeling of discomfort with parts of their physical body, specifically in regards to their gender.
Lastly, Gender Dysphoria is also a term that someone who has been "diagnosed" with it doesn't have to use to describe themselves if they don't want to (outside of the medical use of it).
For more information on dysphoria I suggest you read Zinnia Jones' article, "'That was dysphoria?' 8 signs and symptoms of indirect gender dysphoria."
*As of this publication the diagnosis is still called Gender Identity Disorder in The International Statistical Classification of Diseases and Related Health Problems (ICD-10).
What does "Cisgender" mean?
The Latin prefix "cis" means "on the same side." Therefore "cisgender" can describe someone who feels aligned with the gender they were assigned at birth, as well as being socialized as and being perceived as that gender. See it as a coincidence that the genitals that were seen on them either in-utero or when they were born just happen to align with their internal sense gender.
Another layer of this is that, in general, a cisgender person's gender expression lines up with whatever their society says is appropriate for that particular gender. Not only do these persons not question their gender identity, but their society also doesn't question it.
This doesn't mean that all cisgender persons feel 100% comfortable with the gender roles, expectations, and stereotypes their society places upon them. There are plenty of individuals who starting off thinking they were cisgender, and eventually come to realize they aren't. There are also plenty of others who take steps to let people in their lives know they no longer wish to be put in a confining box based on their gender, but they don't feel the need to stop identifying as the gender they were assigned at birth.
Another important component to the term "cisgender" is that there are a lot of people who are uncomfortable with being called "cisgender." Many don't like the sound of the word (thinking it is "sis" gender, which they don't understand why they'd be called that). Others think it has a negative connotation to it, such as giving the impression that they are boring, vanilla, or having little variety to them as a person.
Someone who is cisgender may or may not realized that they have "cisgender privilege." This means there are many ways in which a person who is cisgender does not have to be concerned with the ease they have navigating their world, whereas someone who is transgender or gender-variant could encounter ridicule, discrimination, and even bodily harm.
There are many types of privilege that are discussed in today's world, such as white privilege, male privilege, heterosexual privilege, and so on. It isn't an attempt to talk people who are privileged into feeling ashamed for who they are, but instead to bring it to light so they can make attempts to help those who aren't in the same privileged category as they are.
However, for those who are uncomfortable with these type of conversations, they may also dislike being assigned the label of "cisgender."
Just as it is important to respect those who are transgender and gender-variant with their choice in how they identify, it is equally as respectful to be aware of this for those who are not transgender.
This Post Has Been Viewed 1,264 Times