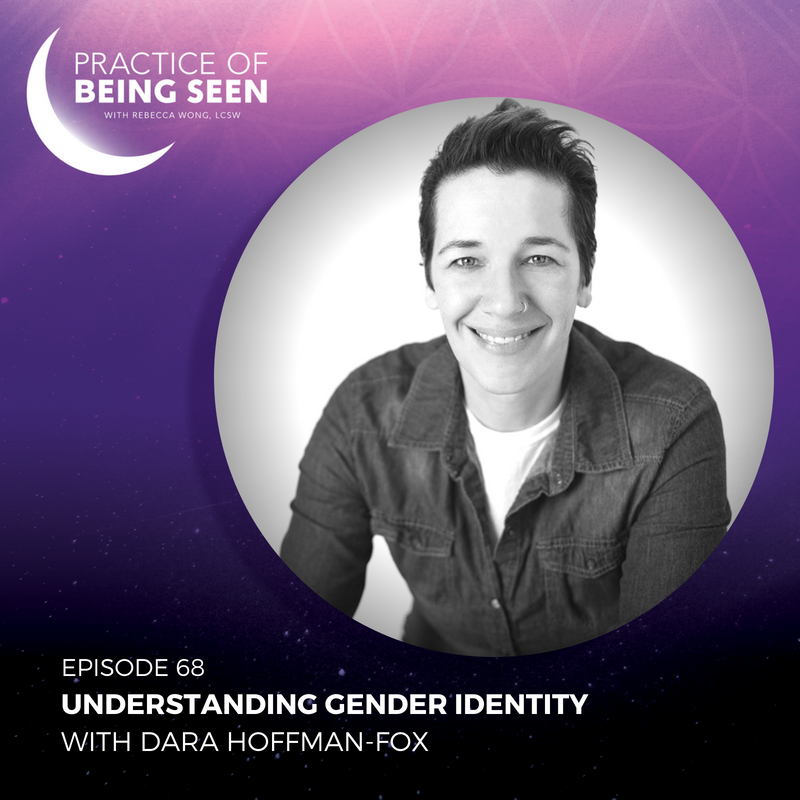 Interview with "Practice of Being Seen"
Interview with: Practice of Being Seen, "Understanding Gender Identity, with Dara Hoffman-Fox," Episode 68. Hosted by Rebecca Wong, LCSW.
Date of Release: May 15, 2018
Episode Length: 57 minutes
From the host:
My guest today is Dara Hoffman-Fox, LPC and Gender Therapist. Dara loves to talk about the invisible spaces, and no issue brings that to light better than the expression of gender identity.
I've been wanting this conversation with Dara to happen for such a long time. Dara's doing inspiring work as a Non-Binary Gender Therapist specializing in gender questioning, Non-Binary, and Transgender individuals. Dara has really found a niche in their work and it is ever evolving. Dara is on a mission not just to educate other therapists about the specific and often alienating issues these individuals face, but also to inspire a community of people who are practicing inclusive language and attitudes in every aspect of life.
Dara offers beautiful language to understand our social biases towards binary gender. Yes, there are more than two forms of sexual identity, and there's also a wide world of gender expression. Along the way, Dara will share with us all the illustrative and beautiful moments where these issues have directly impacted Dara's life. I'm excited to share these informational stories with my listeners. We have so much to learn from Dara's experiences, from the visceral feeling of being misgendered and the universal longing to be seen accurately.
Now is a chance to opening up your desires and bring awareness with us wherever we go. Let's make preferred pronouns a part of the conversation. Let's ask ourselves how we can begin to make conscious decisions about the words we choose and the gendered labels that need to go by the wayside. Dara invites us all to enter into a social movement that allows everyone regardless of gender identity and gender expression, to be seen for who they really are!