Transgender Awareness for the Well-Intentioned: The Male-to-Female Experience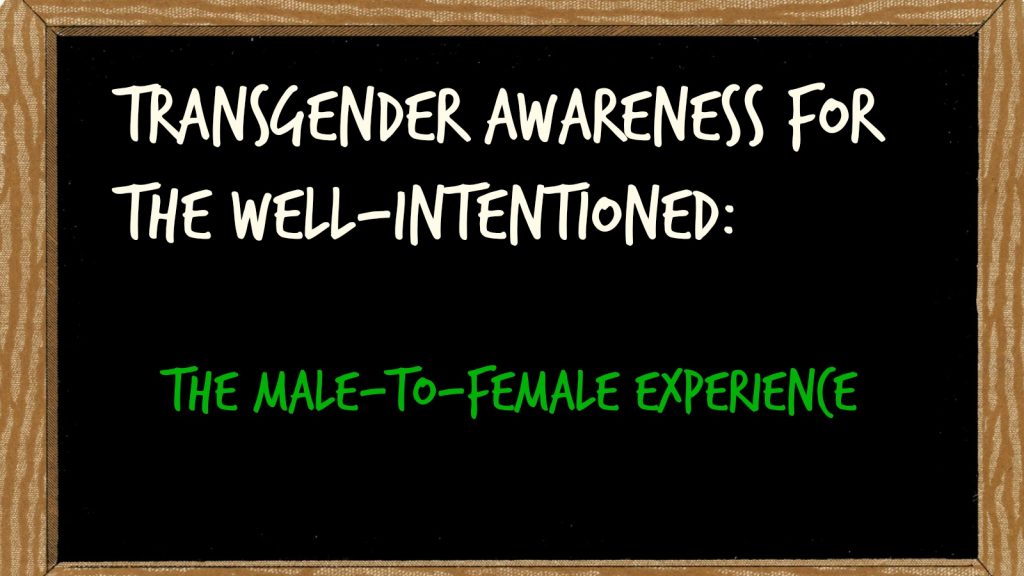 Laverne Cox from "Orange is the New Black." Moira from "Transparent." Chelsea Manning (fka Bradley Manning). MMA fighter Fallon Fox. Kristen Beck, the "Warrior Princess." Author and former staff editor of People magazine Janet Mock. Supermodels Andreja Pejic and Carmen Carrera.
You may have noticed that, over the last year or so, transgender media coverage has become "mainstream."
You may not have noticed, however, that a high percentage of these stories are about only one segment of the transgender population. Those who the media label (incorrectly) as "born male but are now female."
Some people are starting to get it. Many are trying to. Others refuse to.
I'm thinking since you're reading this article that you are in the first or second category. So…
 3 Tips to Help

You

Get It
Imagine that you used to know any of the previously mentioned transgender women before they transitioned. She (although you perceive her to be a "he") walks up to you and says she has something important to tell you.
I know you've known me as a male for my entire life, but that's only because of what you've seen on the outside. Inside, I am female. And I am ready to make the changes necessary so that I can feel feel like a female, and hopefully been seen by the world as a female.
First tip for you to remember is: What she just said is true.
You might say, "But your height, but your voice, but the size of your hands, but the shape of your face, but your facial and body hair…"
She might then say something like, "Right, unfortunately I didn't understand what was going on with me so I had to go through male puberty."
Believe me when I say that trying to "work with" the effects of male puberty is one of the most difficult aspects of being a transgender woman.
You might say, "But you have a penis!"
She might respond, "Sure, I was born with male sex characteristics. But that doesn't mean that my gender is 'male.'"
I know, this is the part a lot of people have a hard time "getting."
For now, keep it simple. Her brain is female. Tell yourself this over and over again until it becomes second nature.
Certainly if you are personally involved in the life of this person there could be a period of awkwardness, confusion, and adjustment on everyone's part.
But more than likely it took her years of arguing with herself before she came to the conclusion that she is not a man? That she might have hidden it for years, wondering if it's "too late"?
How will society treat me? Will my spouse leave me? Will my kids never want to speak me to again? Will I be fired? Will I ever truly look and feel like a woman?
She may not yet (or ever!) "look like a female" to you. But in her mind's eye she's been a female her whole life. Since birth.
So, I'll say it again, as it bears repeating:
Do her the respect of believing her.
The 2nd tip to remember is: Address her the way she wants to be addressed.
It's the most frequent question I hear from those who are not transgender. "What pronoun should I use with them? What name should I call them?"
Ask her.
Ask her if she'd like for you to start addressing her with female pronouns and by a female name right away (more than likely she'll love it that you took the time to ask).
She might say yes.
She might want you to wait until the effects of Hormone Replacement Therapy have begun to show.
She might want you to start using female pronouns privately, but not yet publicly.
It's okay to let her know that you might screw up at first, and that you want her to let you know if you do. Especially if she does it in a kind, patient manner.
Check out this article as well:
10 Things You're Actually Saying When You Ignore Someone's Gender Pronouns
Trust me, you'll definitely get it after you read it.
The 3rd tip to remember is: Everyone is different, there's no single way to be a "transgender female."
Transgender females identify themselves in all sorts of ways.
MtF. Male-to-Female. Transgender Female. Trans woman. T-girl.
They also might identify as:
Girl. Female. Lady. Woman.
That's right, someone who is "technically" transgender does not have to use the word "transgender" to describe themselves if they do not want to. Ever.
Physician: "So, what brings you in today?"

Patient: "Well, I have Gender Dysphoria and want to discuss my options for beginning medical treatment to help relieve the distressing symptoms of this condition."
I know women who use the word "transgender" only when discussing their medical records. Some use it only when referring to themselves in relation to the entire transgender community. Some use it all the time to describe themselves.
Think of the different identities that you have. My guess is you'd like to have the right to use them whenever you'd like, if at all!
"Hi, I'm Dara, I'm a lesbian."

"Hi, I'm Dara, I'm half Jewish."

"Hi, I'm Dara, I'm an army brat."

"Hi, I'm Dara, I'm a divorcee."

"Hi, I'm Dara, I'm a recovering Catholic."
Most of the time I like to start with, "Hi, I'm Dara."
I'll give more information about myself depending on the context of the situation. Who I'm talking to, my level of trust with them, how many people I'm talking to, why I would need to share more about myself…
My hope is that someone won't pry and ask questions that are too personal, if that's not appropriate to the situation or the relationship.
The bottom line is to ask yourself, based on the relationship you have with this person, is the question you are about to ask too personal or intrusive?
Is this person your employee or co-worker?
Don't ask personal questions – she will offer any information she wants you to know. Keep it professional and ask only what you need to know to help her successfully transition at work.
Is this person your spouse? Your best friend?
Chances are that personal questions are to be expected, and for the conversation to be (understandably) awkward and uncomfortable while doing so.
Thank you so much for taking the time to read this! Please share this with anyone else you feel could benefit from it!