Swimwear Anxiety: Cis Vs. Trans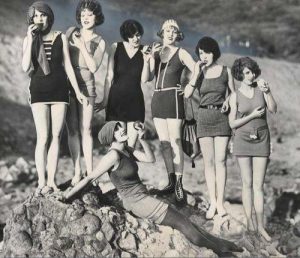 Today's blog post comes to you from North Carolina, where the wife and kids and I are visiting my in-laws. There's going to be plenty of time in the pool, as well as a trip to an indoor water park that's inside of a hotel.
So what's one of the main pieces of attire that'll be worn on this trip?
You got it, a bathing suit.
So Lauren and I have spent more time than we should have going from store to store to try on suits. We're both almost forty years old, so there's a certain amount of hip-ness combined with modesty that's needed at this point in the suits we select.
Then there's the actual preparation for getting ready to wear the suits, i.e. the shaving.  Above the knees and below the knees, the "bikini area," the armpits. At some point during this process I notice how my body has changed over the past year. A little less of a paunch thanks to going gluten-free this year. The varicose veins on the back of my legs getting more noticeable. More dimples in the thighs.
Le sigh, what an ordeal!
All of this made me think about one of my clients who's also been planning a summer vacation for her wife and kids. We started talking about the vacation several months in advance, due to the concerns and challenges that were coming up for her.
"Should I go in 'girl' mode or 'guy' mode?"

"If I go in girl mode, should I wear a bathing suit?"


"If I wear a bathing suit, will I look okay? Or will I be making a fool of myself?"

 "Will I be able to use the ladies' restrooms and changing rooms at the hotel, restaurants, and tourist attractions? What should I do if anybody gives me a hard time about it?"
And I thought I had a lot on my mind about my vacation.
The question of going in "girl" or "guy" mode seemed, at first, to be a no-brainer. She had already been on HRT for a year and a half and was at a point where her feminizing results were very pleasing to her. She was really enjoying the new level of confidence and comfort she felt about herself and her body, and her daughters had scolded her for even thinking about not going as her true female self.
As a matter of precaution she called the hotel in the city in which they'd be vacationing and asked about their policies for transgender patrons. She was referred to the head of security, who proceeded to let her know that she must present as male during her visit because she was pre-op (i.e. she had not yet had gender reassignment surgery). She must "dress a male at all times (whatever that's supposed to mean!), use the men's restroom and the men's dressing room."
At first this conversation left my client hurt, confused, and angry. All she wanted was to be able to go on vacation with her family, and now she was being told she had to revert back to being someone she never even felt she was.
In previous sessions we had already been discussing the issue of "to wear or not to wear" a ladies swimsuit while on this vacation. Although she felt comfortable and confident when it came to looking "cute" in the suit, she was unable to afford the high price of laser treatments and/or electrolysis to remove her excess body hair. She initially was hit with what I've heard many clients call "a really bad gender dysphoria day" when she realized she wouldn't be able to enjoy time at the swimming pool with her family while on the trip.
It just so happens that earlier that week I had heard about a local couple who provided electrolysis on a donation-bases for trans persons who were having a hard time affording the cost of it. My client's face lit up and, without delay, she scheduled herself several appointments leading up to the date of the vacation.
So the disappointment brought up by the conversation with the head of security was compounded by knowing that all of the effort she was already putting towards making this a pleasant experience for herself and everyone involved was for naught.
Until she decided she would get a second opinion.
At the end of our session she said to me, "You know, I already have a super cute bathing suit picked out, and I'm not about to let this one security person stand in my way from being able to show it off."
This time she emailed Guest Relations at the hotel, asking if the hotel is friendly to transgender people. She received a response which stated they do indeed have a strict policy in regards to discrimination, harassment, and retaliation that applies to persons who are transgender. Including her being able to use whichever restroom is consistent with her "full time gender appearance." The writer of the email signed it, "Have a wonderful day!" And you bet my client did.
So tomorrow I'll be going to the pool, and I'll be wearing my new bathing suit, and I'll wonder if I look okay in it, and I'll be annoyed when I'll have to pee while wearing it and I'll grumble all the way to the ladies room to do so…
But these concerns are embarrassingly small compared to what a person who is transgender goes through when going on vacation. Especially if they are in the earlier stages of transitioning – they may not even have their name changed yet on their driver's license or passport, or their gender marker, and they have to wonder at what point is someone going to make an issue of this.
The client I described earlier is a trans female. But what about someone who is a trans male who hasn't yet had top/chest surgery? His options for a bathing suit are either "don't bother" or "wear a binder under a big t-shirt" (i.e. tremendously uncomfortable).
And having to pee while you're wearing your swimsuit? Imagine if your bigger concern is whether or not someone is going to demand you leave "their" restroom, or even having to deal with scowls from onlookers.
Homework Assignment
The next time you go on vacation, take a moment to think about what it might be like for someone who is transgender. If you are female, think about what it'd be like for trans females – if you're male, think about how it could be for trans men. If you have any opportunity at your place of business to make a vacation more comfortable and enjoyable for a trans person, I encourage you to think of ways you can do so.
Also, if there are ways in which you have been challenged while traveling (such as a handicap, your ethnicity, your weight, your sexual orientation), then you probably have more compassion for what a trans person goes through than you even know. Use this opportunity to connect with this feeling of being a minority and the potential challenges which come with this.
If you are trans, take a lesson from my client and don't give up! I know this is easier said than done, so bite off just a little bit at a time. With every victory, with every time you stand up for yourself, you not only are empowering yourself but also the other trans people who they'll encounter in the future.