"Ma'am" and "Sir" in a Transgender World: Part Two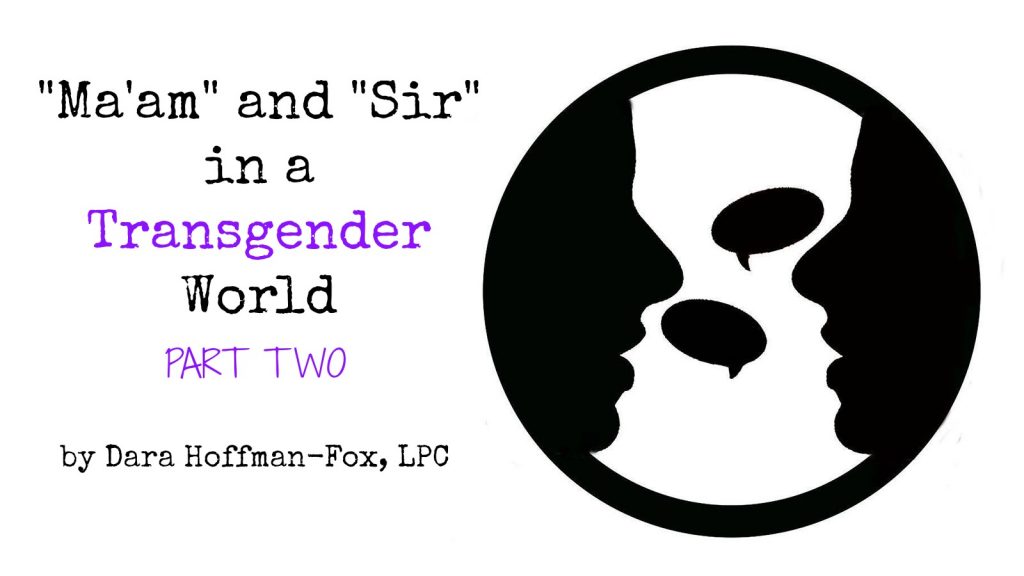 Say you're in your PJs and you're getting ready to leave your home to run some errands.
You know, things like getting gas, going to the bank, getting stuff from the grocery store, grabbing a latte from your favorite coffeehouse.You have some choices to make about how you want to look when you go out, right? It might depend on how motivated or lazy you're feeling about it, or if you care or don't care about what others think of the way you're dressed, or if you're running short on time or not. So you make your decision according to some of these factors and off you go!
But what if you're transgender?
Before I go on let me clarify.
I'm thinking of my clients who have either not yet begun Hormone Replacement Therapy (HRT) for the treatment of their Gender Dysphoria and those who are in the early stages of transitioning.
I'm also thinking of those clients who, no matter how long they have been on HRT, have something unchangeable about their physical appearance (such as their height or facial structure) that continues to create some of level self-consciousness.
Lastly, let's not forget those who are, very understandably, unable to afford to certain procedures that assist in a person feeling more congruent with their true gender (such as electrolysis to take care of unwanted facial hair, voice coaching or vocal chord surgery, chest reconstruction surgery, facial feminization surgery, gender confirming surgery, etc.).
Breaking It Down

So now let's look at the process that many of my clients go through before they embark on what would seem to a cisgender person like a simple task of going to run errands. I divided it up between MtF (transitioning from male to female) and FtM (transitioning from female to male) because I've noticed there are a few significant differences between the two.
MtF (transitioning from male to female)
Should I wear makeup?
Should I wear earrings?
Should I wear jewelry?
Should I paint my nails?
Should I wear a wig, or a hat?
Should I wear something really 'girly'?
Should I walk more 'girly'?
Should I look people in the eye or look down?
Should I talk above a whisper?
Should I use speak in a more 'girly' way?
Should I stuff my bra?
FtM (transitioning from female to male)
Has my facial hair grown in enough? Should I wear a false goatee?
Should I walk more like a 'guy' does?
Should I act more like a 'guy' does?
Should I deepen my voice when I talk?
Should I even talk at all? (pre-HRT)
Should I dress more like a 'guy'?
You'll notice there are a few similarities between the MtF and FtM experiences. Those tend to stem from a trans person being highly aware of what our society believes to be the "male" and "female" characteristics that offer clues (even if they are unconscious) to the burning question that very few of us can stop when we see someone of questionable gender:
"Is that a guy or a girl?"
As for the differences, many of my female-to-male clients will remark that they feel for male-to-female clients, recognizing that MtF's have additional challenges that they usually do not have to deal with, or at least not for very long.
The example I have heard mentioned the most has to do with the effects that testosterone has on someone who is FtM.
Once a trans male begins HRT (which in their case would be increasing their testosterone levels), their voices deepen and hair grows on their face, both of which rank high on the "male" side of the subconscious clues list. Subtle changes can be noticed within only a few weeks and, after a couple of years, many trans males are rarely mistaken for female, (if this is their goal).
HRT does not affect the voice of someone who is MtF, so she will still have the same "masculine" voice she acquired during puberty. Hair growth on her face does not stop, and hair growth does not increase on the top of her head (for those who have male-pattern baldness). Again, these are all characteristics which rank high on the subconscious clues list for proving or disproving femaleness. They require more money to remedy than many folks can afford, and therefore the result is oftentimes a trans woman being misgendered as "sir" or "he," even if she is wearing earrings, makeup, and a "feminine" outfit. This drives my clients crazy when this happens!
If you're still wondering what the big deal is about these female and male "clues"? Check out what Kate Bornstein says in her groundbreaking book Gender Outlaw:
"According to a study done by Kessler and McKenna, one can extrapolate that it would take the presence of roughly four female cues to outweigh the presnece of one male cue: one is assumed male until proven otherwise. That's one reason why many women today get 'sirred' whereas very few men get called 'ma'am'."
So, take a moment to remember where this entire scenario began…
Say you're in your PJs and you're getting ready to leave your home to run some errands.
Sounded so simple when we started, didn't it?
Additional Reading:
"Ma'am" and "Sir" in a Transgender World: Part One
"Ma'am" and "Sir" in a Transgender World: Part Three
Homework Assignment:
The next time you're about to go out to run errands, notice how it is that you decide what to wear and how to present yourself. Imagine what it must be like for someone who is transgender. How would you feel if you were misgendered by someone?
If you think this wouldn't bother you, remember back to when you were going through puberty. How self-conscious did you feel about your appearance? How many different styles did you try in an attempt to express who you really were? What did it feel like when someone made fun of you, or assumed you were trying to be someone you weren't? Imagine going through this as an adult, day in and day out.
In Part Three I will further explore this whole notion of "maleness" and "femaleness" in our society. If you are cisgender then this is probably something you don't have to think about very much, if ever. But for someone who is trans it's an almost constant companion in their life.And oftentimes one they would be happy to never have to think about again (I've heard it described as "I'm so tired of having to be 'trans' – can't I just be me?").
Recommended Reading:

ORDER THIS TITLE THROUGH THE LINK ABOVE AND I'LL GET A SMALL KICK-BACK FROM AMAZON! THIS HELPS ME CONTINUE TO CREATE FREE CONTENT FOR MY READERS. ????