Trans "Mirror" Pic Speaks a Thousand Words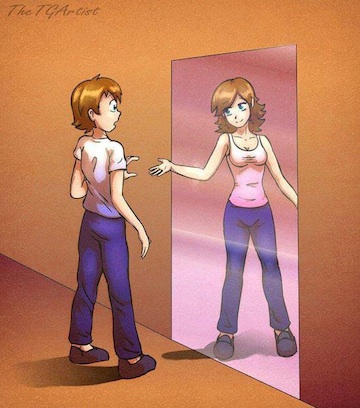 I shared this image, entitled "Mirror" by The TGArtist, on my Facebook page a few weeks ago, and was struck by how much it has deeply touched many of my transgender clients. Their reasons differ, depending on what stage of transition they are in.
I've heard "That's exactly what I want to see!" from clients who are in the early stages of their transition. They may still appear on the outside as the gender they were assigned at birth, yet they long for the day they can see more of their true self as the reflection in the mirror.
I've heard "That's exactly what happened to me the other day!" from clients who have begun to change their appearance in certain ways, moving towards the direction of their true selves. This could be as a result of Hormone Replacement Therapy and/or the use of makeup, earrings, wigs, hats, hairstyle, clothing, accessories, tattoos, piercings… Remember, besides beginning to appear less as the gender they were assigned at birth, they are also finding their own unique sense of style as well!
I've heard it described as a moment they will never forget in which they glance into the mirror and see themselves, for the first time, as they have always meant to be. The gesture of the woman in the mirror reaching out and inviting her on-looking self in is a powerful one as well that my clients really connect with.
Lastly, I've heard "That's exactly how I used to feel!" from clients who are far enough into their transition that their inner sense of gender matches up with who they see in the mirror on a daily basis. One of my clients said,
"I used to look in the mirror and ask myself 'Do I look like a woman today?" Now, the question has changed to 'Do I look like me today?'"
Although this image speaks to the MtF experience, I want to be sure to note that trans men are just as likely to have these feelings arise during their transition. However, I'll work on finding an image that reflects this. If you know of one feel free to let me know!
Homework Assignment
Take a look at yourself in a full length mirror. Think back to a time when you didn't like something about the way you looked. Where you felt like it wasn't the real "you" staring back. Did you weigh more? Or less? Did you have a hideous hairstyle? Did you have to dress in a certain way that you couldn't stand? When you look at your reflection now, is there anything that still doesn't feel "quite right" to you?
Now imagine if everything about your appearance didn't look or feel right to you. That you were constantly being mistaken for being someone you were not.  I have a teenage trans male client who said, as a way to explain it to people who are cisgender,
"It's like someone has forced you to wear a Nazi uniform everywhere you go. You know you're not a Nazi, but everyone else thinks you are, and keeps calling you one and treating you like one."