UPDATE, PLEASE READ! (12/16/15): Since appearing as a guest on this podcast the host has dramatically shifted their stance on what it means to be transgender. 
Giving interviews is one of my favorite parts of being an educator and therapist for the transgender population.
Needless to say I was a bit nervous to give my first live video interview in December 2014 with Mark Angelo Cummings on Transition Radio. I mean, it's live! And it's a video! ("What should I wear?? How's my hair?? Is there anything in my teeth??").
Thankfully Mark's crew was able to take care of any tech issues, and Mark himself took care of the rest of my jitters with his easy-going and conversational interview style.
The video-editor in me was especially impressed by how he and his crew inserted photos and videos during my interview. It added an extra layer of professionalism and gave a "fuller" picture of what it is that I do.
I hope you enjoy watching this interview as much as I did giving it!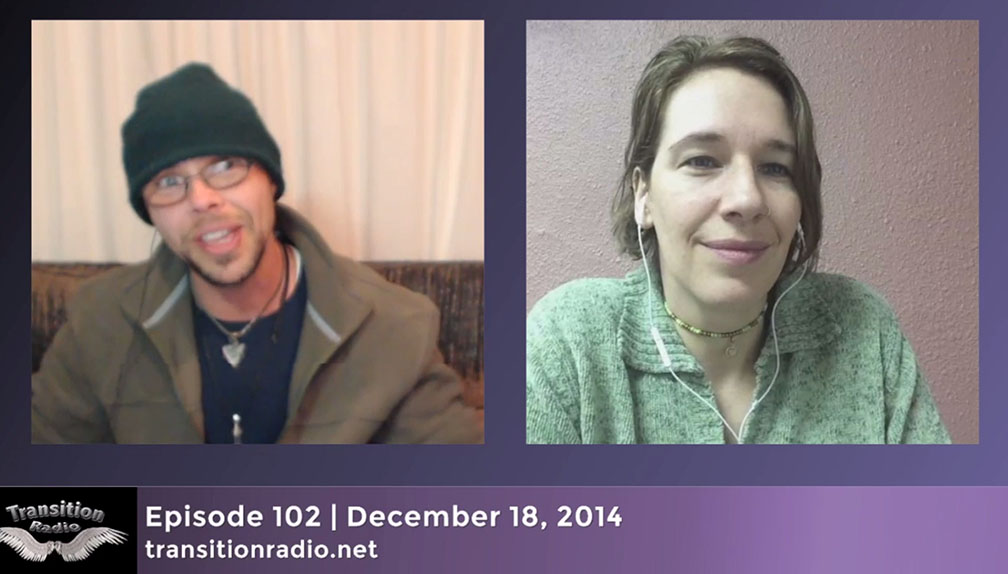 (video has been removed)
Also, thanks to my colleague Paul Gross, MA we have the transcript available as well! (check out Paul's private practice website here and his Facebook page here).
TRANSCRIPT:
Transition Radio Interview with Gender Therapist Dara Hoffman-Fox, LPC
Host: Tonight, we have Dara Hoffman-Fox, who is a licensed professional counselor in Colorado Springs, Colorado. She has the vision that, together, we can make this world a better place for those who are transgender.
Although she identifies as non-binary, she is accustomed to the use of she and her for pronoun usage.
In addition to having a private practice that specializes in working with transgender clients, Dara also created a transgender education resource website which can be found at darahoffmanfox.com. Through the education provided in blog articles, social media, YouTube videos, and in the near future downloadable guides and workbooks, Dara hopes to empower those who are transgender and enlighten those who have transgender loved ones in their lives.
Roll Dara's ABOUT ME video from her transgender education and resources website
Video: Hi, this is Dara and I thought I would take just a couple minutes of your time to explain a little bit more about why it is that I wanted to create this website. A lot of times, people are surprised to find out that I myself am not transgender, because then they wonder why is it that I have so much of an investment of my tine and my energy into what I do. I decided it comes down to three things: my past, my passion, and my purpose.
When it comes to my past, I would say that I have had my own gender confusion for a very long time and the reason of that was because I didn't realize when I was a kid that I was gay. I remember very far back, knowing that I had certain thoughts and certain feelings, that I didn't understand what was going on with them.
The reason I say I had gender confusion is, when I look back on it, I see how my masculine and feminine energies were all in a tizzy. In fact I have a picture to prove it to you. Here is a shot of me when I was 10 or 11 and I am surrounded by my collection of Michael J. Fox pictures.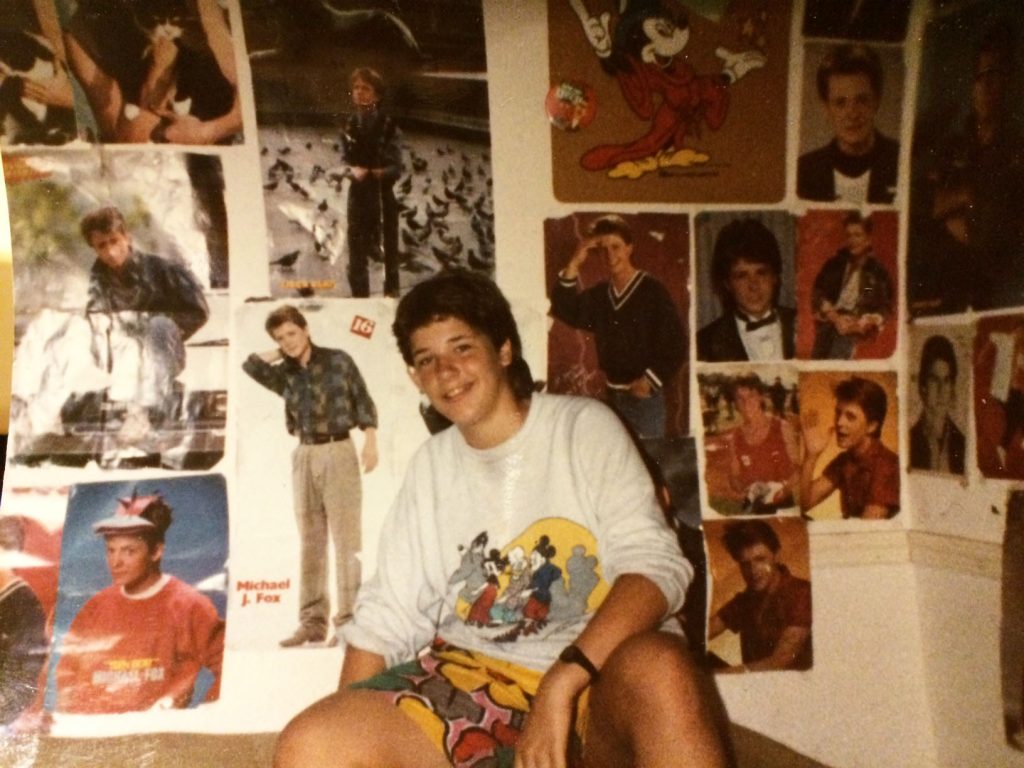 One thing really struck me about it. About a year or two ago I was looking at this and I never understood why I had such a huge thing for Michael J. Fox, but now I understand; I wanted to be Michael J. Fox. So basically, the masculine energy I was portraying was because I could not figure out my sexual orientation, so therefore it came out as the look that I had.
I got made fun of for it and people teased me for it and said I was a tomboy. Instead of being able to own it and say 'Yes, this is all true,' it was all very unsettling and embarrassing and I withdrew for many years because of that self-consciousness.
So, it wasn't until I was 30 that I finally came out and once I was able to do that I noticed that over a period of years after that my masculine and feminine energy was very much able to come into a balance with each other. I'm in a place now where I am very comfortable with where I'm at, which is pretty much gender fluid.
Even though this is different in a lot of ways from the experiences of the clients that I work with who are transgender go through, it still has enough similarities where I feel like we can work together in a certain way. Not to mention that it helps with explaining to people what gender is and how you can express it in different ways and how you can identify it in different ways. That comes from a place that is very personal to me that I want to teach others.
The next part I had said was my purpose. I'm the kind of person where ever since I was a kid I wanted to know what my purpose was in life. I would examine it through journaling and my astrology charts. This was something I struggled with for a really long time, so I took little baby steps towards my purpose.
One was when I went to graduate school to become a counselor. I eventually became a counselor and I got one step closer to what I was meant to do. Then a couple of years ago I realized that working with transgender clients was becoming my area of expertise. I had a huge number of clients who were transgender. Once I recognized that, it became another step in knowing my purpose. Last year is when I realized I don't have to be just a counselor to people who are transgender, I can be an advocate. That is where all of this desire to create a blog, create articles, and create training resources came into play.
The last part is my passion and I would say… (fade out).
Host: Welcome to the show Dara Hoffman-Fox! Thank you so much for being part of my show.
Dara: Thank you for having me!
Host: I've been trying to get you for a while but you've been busy and the time scheduling and things like that. I'm glad that before I took the break for the New Year that you are here and looking forward to this.
Dara: Thanks I really appreciate it. Thanks for calling me Dara (Dare-a) by the way because a lot of times it starts off with Dara (Dah-ra) and I get to try to correct so right from the start (gives thumbs up).
Host: I usually mess up people's names so that was surprising.
I guess maybe because I've heard your name said before it makes it easier. I used to have the same ordeal with Leif Garret when I was younger and I thought it was a crush. But no, I wanted to be Leif Garret and I didn't realize that when I was younger. So when you said that about Michael Fox it was like wow…yeah. I'm not the only odd ball that felt or wanted to be these amazing stars. Back in the day, Leif Garret and all these little teen idols were really big.
Dara: Actually, when I look back, I used to have this Top 5 of male celebrities that I, at the time, thought they were cute and if I could have I would have wanted to date them. It involved Tm Cruise, Bruce Willis, Kevin Costner… and looking back, again, it was an unexpressed masculine energy that's really screaming for attention. It makes total sense now, when I look back, certainly not at the time. It was just me being a teenager and being confused. So that's cool to hear your story about that as well.
Host: People don't realize that gender is all about energy and that every single person on this planet has both a male and female persona. Now, we're taught to totally just get rid of the energy that we are not born as, so it's like a fighting struggle and I believe we are heading in a major evolution where people are screaming out "I don't want to hide this part anymore. I want to be able to express what I feel, more so than hide it."
Dara: I think that's a great description of it. It's really interesting how many people who I see for transgender counseling, I'm one of the first people to mention to them something about their masculine and feminine energy and how they don't have to necessarily give up one for the other. In fact, balancing the two and bringing them in together, that's a whole different conversation that happens that really brings them more clarity and actually brings them freedom to know that it's not just going from one box to another.
Host: Right, And unfortunately we're taught that we have to pick one and we have to pick the one that our genitals match. I believe we are here as spirit beings learning how to balance our yin and our yang, which is part of that male/female energy; day and night, good and bad. It's part of that duality that we live here on this plane.
Explain to our viewers what you meant by you identify as a non-binary person.
Dara: Sure. Actually I appreciate you wanting me to expand on that because it's not something I really speak about publicly very often because, for one. I also don't want to accidentally make the conversation too much about myself because I want it to be about my work and the people I work with. But I do think people are curious to know because I do work so much with the community, what's going on with myself.
So I went this past June to Philadelphia for the Philadelphia Trans Health Conference. At the beginning they have your name tag and you write down your preferred pronoun and I had put 'she/her'.
By the end of the conference, which was three days long, I realized that I crossed that off and I put something like 'whatever'. I have it on my About Me page on my website. And that was because there was so much there at the conference about gender fluidity and non-binary.
I even attended one workshop specifically about that and I went in there as a gender therapist who's just observing and seeing what's going on and by the end of the workshop I was actually sharing and talking more about how I actually feel like I'm recognizing the non-binary in myself.
The best way I can explain it is that, especially over the past couple of years I've recognized that when I'm, first of all— let's say someone refers to myself and my wife as ladies, 'Hey ladies, how can I help you?', I get uncomfortable with being called ladies. But I don't want to be called gentleman either. I started to recognize that was something that felt to me like 'Who are you talking to? It's not me.'
Whenever there's a time you have to put 'male or female' on something, like I just ordered a plane ticket and they still ask these questions, which drive me nuts, and I have to choose female. That is a moment where I feel annoyance, not only because that exists, but I now have to tell them one or the other.
There are other examples of that where I think it has been social, as in the first example where somebody uses ma'am or ladies or female or things like that. Using 'she' and 'her,' I'm accustomed to that.  And it's not necessarily something that bothers me and only every now and then I notice it.
When it comes to using third gender pronouns I'm curious if that's something that at some point I will feel comfortable migrating towards. For the moment I'm not there and I'm not sure if I will end up there.
But so far, recognizing how comfortable I am with my blend of masculine and feminine, I feel very much at times non-gender. And if I feel masculine at a certain time or feminine at a different time, to me that's a whole different language to describe myself. Hopefully that explained a bit about what I meant by that.
Host: Yeah, definitely. When I was growing up I went through a lot of that. I was going through phases were I felt very masculine then I went through phases where I felt very feminine. And people could never really get it, 'are you butch or are you fem?' I don't know. It depends on the stars and the moon and how I feel. That was the way I explained it back then.
And as I've grown older now I've learned its part of our two spirit nature, it's part of we have both those energies and it's normal to be able to express both energies and maybe feel comfortable for a little while in one energy and then in another. Right now this (gesturing to self) is how I express myself, but I still have a lot of my feminine traits and I haven't killed who I used to be before because that's part of who I am.
And I think we should stop all that, 'what are you, male or female?' or check this box or that box and does it matter? We're spirits having a human experience, bottom line.
Dara: I like that, Mark.
Something else that I've noticed is, even though that's the way I personally feel about it and I know a lot of other people do, I definitely have a lot of clients and people that I work with online who still are attached to the gender binary and especially early on in their transition. Looking back they can say 'ohh, I might have hyper-feminized at the beginning of my transition but now I'm coming to more of a balance with who I am.' Kind of like when you are a teenager and you're going through puberty and you're trying to figure out your style and your look and your gender expressions.
At the same time I definitely understand that there are those who still are comfortable identifying as male or female, and with the binary. And, especially if they're my clients or it's somebody I'm trying to help, I do still meet them in that space to be able to talk to them on that level that they are most comfortable with. And maybe eventually the conversation can come up about 'Do you feel like you've put yourself in a gender binary box?' And, if they are open to that and wanting to discuss that, then of course I will discuss that with them.
Host: Like you said, it's an evolution and some people have had to struggle so much to be able to show that other side that they haven't been able to, now they are able to so they are like 'This is who I am,' and it's understandable. I mean, everybody is on a different level and there is no judgment, we are who we are and it's just a matter of understanding one another, accepting one another and respecting one another.
Dara: Yes.
Host: I'm a big believer in freedom of expression and I feel that gender boxes us in, humanity is way too focused on gender. What is your view on this?
Dara: Like we have been talking about, I do feel that we are moving into a time right now where a lot of people are recognizing just how stifling being put in gender boxes can be. Besides even working with clients who identify as transgender I've got clients who, let's say, are cisgender male, who happens to write poetry, who happens to be very comfortable with his slight figure and he still gets antagonized by coworkers or even by his own spouse for being too feminine. And this is somebody who is dealing with the gender stereotypes and gender binary. I notice it everywhere, not only with just my transgender clients.
I think it's really sad when people are put into those boxes, first of all, when they don't even know it. And then eventually it's, like, inside of them they can feel that other energy coming up but they don't know how to express it. They don't know if they are going to be punished for expressing it. For the gender binary to continue to be examined and dismantled, I do feel like that is the direction we are going in.
And at the same time recognizing that masculine energy and feminine energy are awesome. Understanding it and how it flows through you I think should be more highlighted.
Host: When I was little I used to be very masculine. I used to walk around and it's like automatically 'She's going to be a lesbian.' At two or three you don't know who you want to go to bed with. So our mannerisms and the way we present ourselves have absolutely nothing to do with our sexual preferences. I've known a lot of females who have been very masculine and are very much attracted to men. Or vice versa. So we as a society need to stop that all together. It's hindering us.
Dara: You have a good point. It reminds me that I have noticed for myself, I don't use the word 'lesbians' to describe myself anymore, I do go with gay. It was the weirdest realization I had just a few months ago. I recognized that me saying that I am a lesbian means that I am attracted to females. And here I am going through this non-binary feeling myself, so what am I saying about my sexual orientation? 'It must be to another female.' I happen to be married to a woman and she is who I want to be with. But in terms of identifying as lesbian, I've noticed that the label has started to feel unnecessary. Does that make sense?
Host: Yes, definitely. That's what I was explaining. When I was little my parents, my aunts and uncle, everybody were labeling me because of my actions, which is bizarre. We as society need to stop that, the whole labeling box has nothing to do with just transgender people but with everyone. The little twelve year old boy who committed suicide because he was a cheerleader and they were bullying him because of him being a cheerleader; it's ok for boys to be cheerleaders, its ok for girls to be carpenters, I mean, there shouldn't be gender specific roles. Its 2014 going on 2015, you'd figure that should all be thrown out the window. It's bizarre.
There's another video I wanted to show from Ask a Gender Therapist, a YouTube video that you have, "Discovering Your True Gender Identity and Not Letting Fear Stop You."
Video: This is a video series in which I answer your transgender questions from the point of view of a gender therapist. I am your host Dara Hoffman-Fox, and I'm a Licensed Professional Counselor in Colorado. This week's question is me taking a lot of the different messages I have received, and mushing them up into three different statements that I'm going to read to you. Once I read them to you, my guess is you are going to connect with this because I'd say 50% of the questions I get fall into this category. So let's go ahead and get started with it.
How do you know if being trans is a phase or not?
I think I am transgender, but every time I think about it, I get really confused and suddenly I don't know how to feel about anything. Is that normal?
I wish I was female; however I am kind of content to stay male. I am so terrified I don't know what to do.
What we are going to do in this video is, first, I'm going to ask you a fairly simple question that you can ask yourself to see what direction you should go in next. The next thing I'm going to do is talk about the different feelings that come up that you can definitely expect to have. And lastly, I'm going to talk about what you can do about those feelings so you can continue to move forward to try to find your answers.
I'm very fond of using the whole idea of our life being a journey and you can even call it a quest. So let's say that those of you who have this kind of thing on your mind it means you are trying to figure out if you should start a quest. You are on a quest to find out your truth, your answers about yourself. So when I said I was going to ask you to ask yourself a simple question, this is what I meant. I want you to think about it in these terms when it comes to questions about your gender identity.
Think about what was your assigned gender at birth? So those of you who are new to this, what that means is, when you were born, the doctor looked and saw either a penis or a vagina and said you are either a boy or you are a girl. You were thus assigned a gender at birth. So, think about what gender you were assigned at birth and more than likely you've been raised that gender. That comes with certain expectations and certain stereotypes. Think about how comfortable are you with your assigned gender at birth?
So, for instance, let's say on one side you have female and you are assigned female at birth. Think about whether or not you are comfortable with that. Are you completely comfortable with it? Are you may be feeling a little on the male side or even in the middle between male and female? Maybe you are all the way on the male side. Maybe you are nowhere on that spectrum… (fade out).
Host: It's definitely a spectrum for a lot of us. Some people are somewhere in-between, somewhere over here or somewhere over here, and it's ok. What do you think?
Dara: I think that's one of the biggest points I try to hit home, not only with my clients but with the educational videos, articles, or materials that I create. So people can recognize that there is no one answer for everybody. And that's really the question that I get so often from people across the world, is when they say "I just don't know if it's ok. Am I ok? Am I doing this right, am I feeling right?'
There is so much doubt that people have even about trusting their own instincts. I think that's really one of the first places that we have to start, pretty much letting people know how they feel is ok and try to break through any of the societal expectations that have been placed upon them so they can hear their truth and then take the next step from there.
Host: That's hard to do because we need, how do I explain it… We've got these models that are put out there, and this is how you should be this is how you should act. Boys should be this way, girls should be that way, you should feel a certain way… and there shouldn't be any rules. People should be able to express themselves as they see fit and you can change. Energy is not constant; you put a meter on energy and it has spikes and lows and that's how we as humans are. Society tries to put us in this neat little box; this is how you're supposed to be, dot your I's and cross your T's and all that craziness. It's not that way at all.
Dara: Yes. I totally agree. It's a shame but it's also good that so many people are recognizing that that is one of the biggest issues, again, not only with those who identify as transgender but for anybody really to take a look at that in themselves.
Host: And I noticed when I had my relationship with a trans female, Jessica, in the beginning when we met, there's a certain way of putting on make-up, certain way of acting…it's like almost overcompensating. The same thing goes for trans guys when they try to be really macho and 'This is how a man is supposed to walk and act.' If you look at the world out there and you're in the middle of the mall and you look at guys, how they walk. Every guy has a different way of walking; women have a different way of dressing. There's no programming. I mean, society tries to make us believe there is, but in reality we're all different and that's ok.
Dara: One of the struggles I've noticed that maybe you can share with me your experience as well, your observations, is… those who are transitioning to female and especially after puberty, sometimes way after puberty is finished, when all the secondary male characteristics are very present. So they are transitioning and they aren't necessarily wanting to use words like 'pass' and 'stealth' and at the same time they want it to go as easy as possible. They want their family and friends to accept them; they want to not have to deal with a lot of the stuff at work, even just out and about with society and strangers. Sometimes having to do things to make sure they look really "female" so that they aren't seen as "male" and then have to deal with the uncomfortableness of that.
It's almost like, because our society is still set up the way it is, it is difficult and I can understand their struggle with that, even at the same time a lot of times they don't want to be doing that. But especially earlier on in transition that they do research, a lot of research and observation, 'How do females act?' and 'What can I do to make sure I am seen as a female so I don't end up running into negativity out in the world?'
It's really sad that, if that's the reason that somebody is needing to do that. If it's to be able to avoid what is really true negativity still at this point for a lot of folks out there.
Host: What actually happens, and I noticed this right away with Jessica, the more focus you put on things like that, the more attention you put on yourself and the more you are outed. If you just relax and be yourself, it's like being a teenager. As you're growing you get these growth spurts and pimples get in your face and all these things that you're trying to learn from being a child into a teenager into an adult, if you put so much emphasis on it, it becomes awkward. If you just are and navigate naturally as you would, less people are going to be apt to say, 'Oh look, there's a transgender female.' It's almost like you put out all this fear and this aura, 'Are they looking at me?' Then actually people are going to look at you.
She quickly learned that as she relaxed and didn't care what other people thought and she was just herself, that people stopped looking. I mean if they looked they were saying 'Wow, what a beautiful woman' versus 'Oh, that's a trans female.'
That's one thing I learned when I was transitioning because I also had that awkward stage, going from a kid to a teenager to an adult. That happens to trans people as well. If you just blend in and just be comfortable; stop putting out all these signals like 'Oh, don't look at me because I'm worried that you're going to peg me or I'm worried that you are going to out me.' If they would just relax, they're not going to. Just make a joke about something or…I know it's easier said than done but it's something that I notice. It helped Jessica; it helped me when I was going through that awkward stage. If I didn't look like a deer in the headlights then nobody even worried about it.
Dara: I can relate because I remember when I came out. At the beginning it seemed like such a big deal. I had to let everyone know that I was gay and got so nervous and anxious about it. It does seem like its normal at the beginning but then after a while you just are being who you are and it becomes much easier just to do things like introduce people, like 'Oh hey, this is my wife.' I used to stumble and hesitate and feel really nervous about it but we've been married for four years now and I think finally this year I stopped having that moment of pause right beforehand where it's like, chances are, the more relaxed I am about this the more relaxed the listener is going to be about this.
Host: It's like if you walk in front of a dog and you demonstrate fear, the dog will sense fear and it's going to attack. If you walk to that dog friendly, loving, most likely, unless it's a really mean dog, most likely the dog isn't going to attack you or bark at you or anything of that nature.
Tell us a little bit about your website and what services you provide for your clients.
Dara: My website is a little bit different than what I do for my clients. I actually do have a separate website that is for my clients. Technically I can only be a gender therapist for those people who live in Colorado and that's just because of licensure and regulations. I do have a website that people locally can stumble upon and look and see what I do. For clients who are transgender, I can provide assessment, meaning if they are going to be meeting with a physician who will be prescribing them HRT, I can assess them for Gender Dysphoria and be able to write the letter of recommendation. I can also write letters for surgery. I also provide counseling.
The reason I like to make sure I indicate those are two separate things is because some people come in and they aren't necessarily looking for counseling, even though I can strongly suggest that 'This is a big thing they are getting ready to go through, you are more than welcome to come back at any time to seek counseling from me for this. But in the meantime, let's go ahead and get your evaluation finished for Gender Dysphoria so you can start your process of transitioning.' That's why I like to separate the two; because some people come in and say 'I would really like to continue exploring my gender and then eventually I'll probably want to start hormone therapy.'
Another thing I want to mention that in Colorado, it's actually pretty exciting, we have a physician who now is using informed consent. My HRT letter writing has drastically dropped off because I haven't had to write it because clients are now able to go to this physician and be able to start HRT without having a letter from me. But a lot of times these clients are coming back to see me anyways, because they want to continue the counseling and have guidance as they go through this process. A lot of people wondered if they don't have to come in anymore for a letter are they going to want to go to counseling. Well, now it's their freedom, their choice to be able to come in and see me for counseling. That's been really positive.
That's the counseling, but on the other side I have my website which I am currently making sure that I am posting blog posts that I write. I also have a lot of guests that come on and write guest articles, especially if there's need for a certain area that I either feel like I can't address very well because I haven't gone through that experience or I have a gap for that information.
I do have the YouTube channel. I enjoy video making and I thought it would be fun for me to do that and it turns out that is an amazing way to reach your audience. I've been really excited and I think one of my videos has actually reached 25,000 views. It was very unexpected and I'm hoping to continue that. And in 2015, I'll be creating more information in the form of eBooks and call them guides and handbooks and worksheets and things like that.
Host: That's awesome, which leads me to my next question. When you mentioned they don't need that letter to get their hormones, most trans people feel that all their problems will just disappear once they transition. They have a sort of tunnel-vision and these problems remain and new ones arise. Can you elaborate on this and have you seen this for yourself?
Dara: Thinking about this, for one, I do recognize this can happen a lot and in different areas of life too, 'If I end up doing this or I do that I think it's going to end up changing everything.' But, honestly in my experience with my clients I haven't seen anybody really do that and if anybody did we would have a good conversation about their expectations and what not.
But for the most part I think, especially once we talk about it, people realize that this is a really, really big part of their life that they need to address and need to be able to take care of. And that once they move through that they're going to have this period of time that almost feels ecstatic of finally having done it and they kind of ride the wave of that for a while. Then at a certain point you hit the next wall. It's just life, it happens. You figure out one thing about yourself, kind of enjoy that experience of having gotten to the bottom of that mystery then another mystery pops up next.
I think for my clients who are aware of that it can actually be really exciting because once they begin to transition a lot of other things begin to fall into place. Maybe its relationship issues, maybe what their career should be. I think the more someone is open to that, the more they can see that's part of another step in their journey. I would agree that if somebody feels like this is going to solve all of their problems they're definitely going to end up disappointed, and deeply disappointed.
Host: Unfortunately I see that a lot. I've been at this since 2003, I get emails from all over the world, people desperate, and 'Oh once I transition everything's going to be great.' I say 'I hate to disappoint you but, if the problems are there before you transition, then the problems are going to be there after.' There's not a fairy godmother who waves her little magic wand and goes 'Boop! Everything's great now!' It doesn't happen that way. We're dynamic individuals and everything changes and nothing's static. Gender is just one part of our life. There's so many other things. How many individuals who are gender aligned have fifty billion problems? So it's not just about being born in the wrong body. Yeah, it helps a lot, to be able to express yourself as you see fit, and look in the mirror and see the alignment but there's other issues in my opinion, I feel anyway.
Dara: And the other thing too is that everybody has different coping skills, personality types, and sometimes the processes can even reveal to them what some of the areas of strength are that they didn't expect and what some of the areas of weaknesses are that they didn't expect. It could be that someone transitioned and then recognizes 'Wow, I'm really kind of a negative person because I still having a lot to complain about.' And to have that self-awareness to recognize 'It's great that I started my transition, it's great I'm moving forward with this but there's some other issues.'
Another one that I see come up a lot is maybe if somebody feels socially anxious or socially awkward, and a lot of times it can be because you're not seen as the gender you feel you are. They go through the process of transitioning and it turns out maybe they are really introverted and they have to actually learn more about their introverted selves and be able to then integrate that as the part of who they really are. Then that fits another piece of the puzzle in.
Like you said, it just kind of ends up being one step along the way to self-discovery. Then there's always going to be something new to be discovered about yourself to work on.
Host: I also find that there are a lot of neurological implications that I believe that during the neural bathing things happen. A lot of us are autistic or have a form of autism; Asperger, anxiety issues, the picking, the cutting, different things of that nature that are neurologically based. That's something that I believe is not really looked at a lot in the therapy arena. They look at gender and then there's a lot of things to look at for neurological impairment. I myself am very OCD; things have to be a certain way. I do have certain anxieties when I meet somebody new; how am I supposed to act, almost like I have to program myself to be able to interact. I have noticed that with a lot of trans individuals and speaking with many, many trans individuals who have the same issues. So it's bigger than just gender. I think eventually that will start coming out and I think eventually we'll start looking at that to try to help these situations.
That brings me to my next question, which is another trend I have been seeing a lot, is de-transitioning. What is your opinion on this?
Dara: As far as I know, I have not had any clients… Well, let me get some clarification. When you say "de-transitioning," are we talking about someone who has started the process of transitioning, either socially or medically or both, and then they halt that process?
Host: They halt it or some of them just go back to being the gender they were born as because they found out that wasn't for them, it was too complicated, life just wasn't going right for them, they weren't happy after they transitioned so they de-transitioned.
Dara: I wanted to make sure, that's what I thought you meant.
From my personal experience with my clients, if somebody ends up starting to transition, whether its socially or with hormone therapy, and then if they stop for any reason; one reason that comes up sometimes can be financial. They just aren't able to because maybe they lose their job and they have to stop hormone therapy. Sometimes there can be pressure from family members, it could be a spouse. Maybe there are concerns that they feel like they are not attractive enough, especially if they are older and they start to feel like this isn't going to work out.
Honestly I haven't had, at least as far as I know, any clients who have done this. I am in touch with a lot of people through social media and on the internet, so it's hard to say what their experiences are. But from what I have seen I definitely know that when people begin to transition, they can run into obstacles that sometimes make them want to stop. In the end, it's not that they aren't really transgender or that they really don't want to transition, but it could be financial, being stressed out by society or family. And if all those stressors end up being too difficult then sure, somebody might decide, not that is was a bad choice, but that they tried it and they just aren't going to be able to.
Its like, which is the best of two evils? 'Should I transition, but then I have a lot of stress and pain during, or should I just not transition and maybe it will be a little less painful?' It's complicated. I get so many emails from people who don't even start transitioning because they are afraid they are going to start it and they will end up wanting to stop because of how difficult it is.
Host: There should be no shame in that. I mean, I find that in our own community we try to shun people who de-transition and we should support everyone because we don't know what their story is. We don't know why they had to de-transition. We should be supportive. It doesn't mean that you're not validated because somebody else couldn't make it. As a community, we need to stick together and love one another and accept one another the way we are or the way we're not, whatever, you know? And I find it in a lot of groups. They shun people who de-transition and it shouldn't be that way because it's hard enough for them to realize they can't do it, they have to go back, and it's ok. It's ok for them to do that.
Dara: It shows a lot of compassion for you to say that because it is true. It's not necessarily a reflection of somebody else or their path or their journey. But to know that somebody in particular, whatever their story is, if they needed to stop, and who knows? They could end up trying again later when they recognize 'My financial situation was not as strong as I needed it to be for me to transition. I'm going to pause so I can save up money so I can do this the right way,' which they didn't realize when they actually started it. You're right; it's so easy to judge someone else's past and then not really know what it is they are going through and what might come next for them.
Host: Sometimes our expectations could be way beyond what actually the outcome is and then it's like 'Oh no, this is not how I thought it would be.' It's like we have to have the expectations be doable and we are trying to conform to what we feel inside our heart and in our soul, but in my eyes, and this is my opinion, I will never be genetically a man. I am a trans person. And that was the biggest realization I ever came to and that was the happiest day of my life because when you're trying so hard to be something that you actually are not, and this is me, everyone else has their right to think the way they want to feel. But, I think once you accept that, then you're ok with yourself. Some individuals want it all the way and if they can't see themselves completely, 100% as that gender, then they want to stop, they want to de-transition. And that's fine if they want to de-transition, because of those reasons. But, I think having the right expectations and being happy and realizing that everything's not going to be 100% hunky-dory, pretty much that's how it is.
I wanted to share another video that story of why being a gender therapist, how you started. I thought this was a very interesting one.
Video: Thanks for being here tonight. I'm going to be telling you a story tonight about the search for one's true self from a perspective, maybe you haven't heard before.
First of all, for those who don't know me, my name's Dara. I have a mental health counseling private practice in Colorado Springs. I call it the Bohemian Sanctuary. Now, about a year ago, I received an email from someone who understandably, was interested in getting some therapy. There was nothing very unusual about the email itself. They said they had a problem that they had been struggling with for as long as they can remember and they thought I would be a good person for them to talk to about it.
Now, I need to stop for a second, because I need to tell you something. At least half of the clientele who I see through The Bohemian Sanctuary end up identifying as transgender. What I mean by this is, there are a lot of different definitions about what it means to be transgender. What I am talking about specifically are people who suffer from gender dysphoria aka gender distress for as long as they can remember. In other words, the gender they were assigned at birth does not match the gender that they feel themselves to be.
So what that means is, anytime I'm contacted by somebody who wants to seek me out for counseling services I have to make sure I do not assume their gender identity.  For instance, this female I just told you about, this person who said they were struggling with an issue for their whole life; it doesn't matter if it was signed by Vinnie or Rex or Brock. In my line of work as a gender therapist, no assumptions can be made about the true gender identity of the person who contacts me.
Let me back up a second and tell you about when I first started seeing transgender clients, I started The Bohemian Sanctuary in 2008 and the way that came about was, in 2006 was when I graduated with my Masters in Community Counseling. After that I worked at the Colorado Springs Pride Center for about a year and a half. Through that job, I made a lot of connections and friendships in the LGBT community. Therefore, when I was finally ready to open my private practice, word on the street was that I was pretty friendly and open to working with the transgender community. This is maybe something you aren't surprised to hear, is very much needed, in 2008 and presently in the Colorado Springs area. So I took this responsibility pretty seriously.
At first, luckily the clients came in as a slow trickle because it took me a little bit of time to realize that it's one thing to be friendly and open to working with the transgender population, but you also have to be very aware and knowledgeable of all the complexities that are involved with transitioning from either male to female or female to male. So I had to be able to answer questions from clients such as questions about hormone replacement therapy, gender affirming surgery, how do they legally change their name and gender marker, where are there support groups in town, where's a friendly place they can get laser hair surgery, what are their rights that are covered under the Colorado Anti-Discrimination Act; this is just the beginning of all the questions could come to you. Friendly and open is nice, but being more of an expert in this area is really what's required. So I had to up my game. I ended up doing a lot of research, a lot of training, and actually through the experiences of my transgender clients is where, honestly, I learned the most.
So here we are five years later and working with the transgender population is my niche, my area of expertise…(fade out)
Host: It's interesting because you said it in a nutshell; we are the ones helping our gender therapists learn about us. We've been around in history forever, transgender people have been around forever, from the moment we started Earth or whatever. But it's a learning curve and we are learning as we go along. The younger generation is teaching us that young kids are identifying at three or four years old are teaching their parents, are teaching the therapists. We're learning as we go along and it's a beautiful thing. Nothing should be written in stone like that, Harry Benjamin Criteria when it first started. It's like wait a minute, human beings are not black or white. There are a lot of shades of grey. I like that about you that you're flexible, you're willing to expand and grow and, I don't know. There's something about you as a therapist that really I like. I've watched a lot of therapists via seminars and I've attended a lot of classes and things with other therapists and a lot of them don't get it. I feel you get it, which is good.
Dara: Well I appreciate that feedback. It means a lot to me. Because I know how much experience you have, not just personally, but working with so many people who are transgender.
I think as a gender therapist, it is a big responsibility to call myself that and I didn't even decide to call myself that until probably last spring which was when I decided I needed to start the website and the blog. But I think I worked in the field a good five years seeing clients before I finally…well, it was actually a local paper that ended up identifying me as a gender therapist before I even identified myself as that. I kind of took that as a nudge that it was ok to go ahead and do that. Because there really is no certification or test you have to take to say you are a gender therapist.
I'm definitely very willing to learn from my clients, but at this point I also want to make sure that they don't have to feel like they are my guinea pigs. At this point I would say, funny enough, even though I self-identify as non-binary, those who are genderfluid—that is becoming a little more of a trickling in as my clients, especially those who are younger teenagers and young adults. There is still a lot of language and understanding that I am learning about that, and I learn about myself, but even about my clients.
So I think it's important not to pretend that you know something you don't really know. That authenticity, I really try to tap into that as much as I can. And I think it makes the clients more comfortable and they are able to trust me a little bit more because of that.
Host: A lot of people, I have noticed, they go to the therapist just to get the letter, that, plus the fact that WPATH changed that all around takes a lot of the pressure off and people are actually going because they do want to learn, they do want to feel comfortable, they want to make sure they aren't making a mistake, so I think that's important. We're evolving as a species, we can't be placed in a box, there's just no way.
Anyway, I definitely want to thank you for this time we spent together, all the information you provided. I wish you lots of luck and I'm sure that your practice is growing by leaps and bounds. As I mentioned years and years ago this was going to be a major epidemic and people looked at me like I was crazy and now it's like…yeah.
Dara: Yes, for sure. I really appreciate your persistence in having me come on. You have so many great guests on this show and I feel really honored to be now counted among them. I really want us to stay in touch and I would love for your audience to give me feedback as well about what do they feel like are the needs that need to be met right now. Go to my website, go to my contact page, and leave me your thoughts. Next year I really plan on producing a lot more education and resources and material to help. This has been great. I really appreciate it.
Host: Thinking about the New Year, maybe I want to change things around a little bit and maybe we can talk about it. Bring you in and do a five minute segment where people could either call in with questions and you could answer their questions or something of that nature. I'm throwing all sorts of different ideas, so we'll see how that goes. Thank you so much and I appreciate your time on the show. Take care.
Dara: Thank you.
This Post Has Been Viewed 534 Times