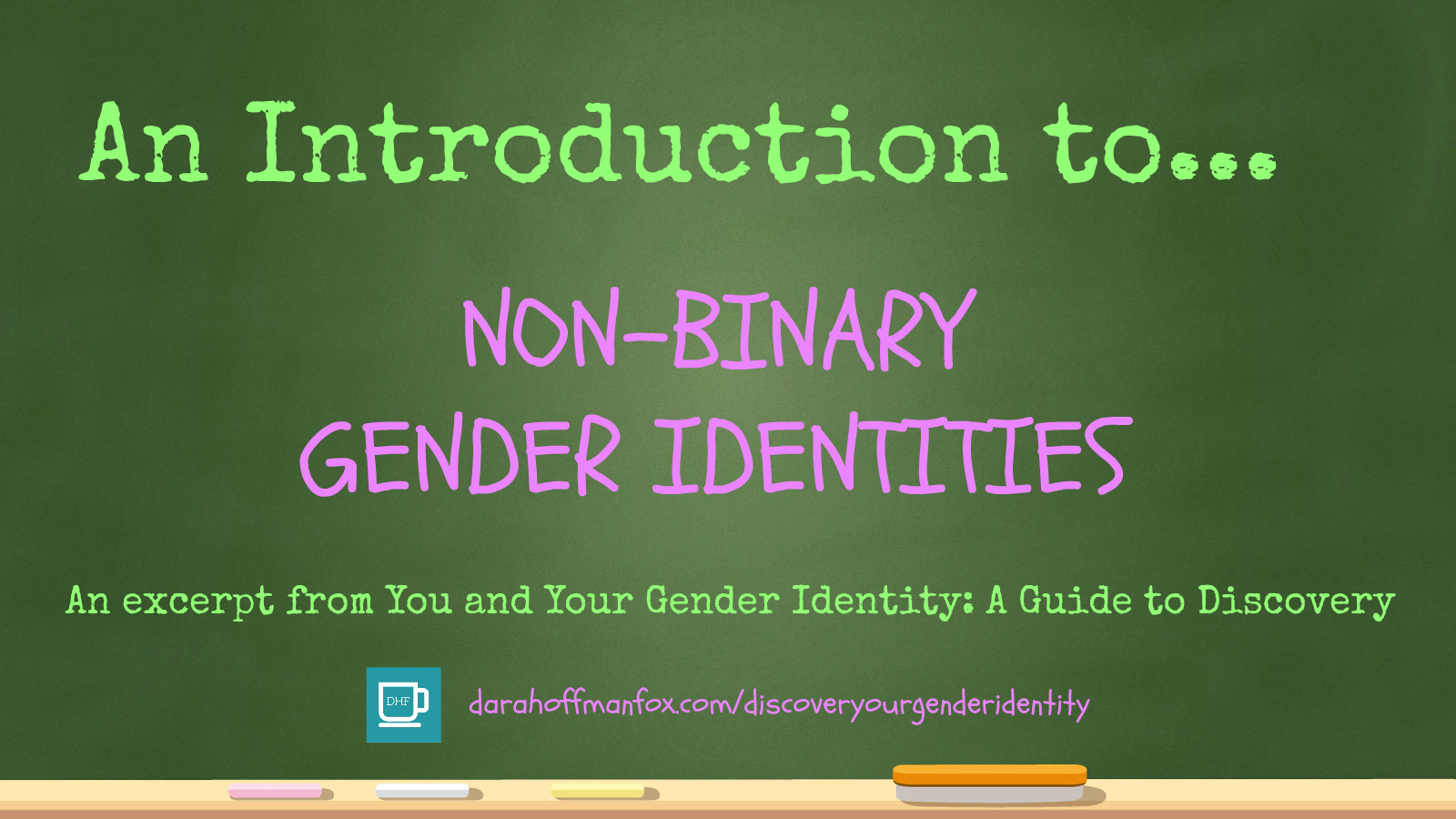 The following is a sneak peak at one of the "lessons" in my upcoming book You and Your Gender Identity: A Guide to Discovery (set for release June 2016!).
This is a topic I am asked about so often that I wanted to share it with you as soon as I finished writing it.
That being said, if you see anything you would like to see worded differently, added, or subtracted I would be interested in hearing about it in the comments section below.
Thanks, enjoy!
---
NON-BINARY GENDER IDENTITIES
"Society seems to think there are only two valid options when it comes to gender – man or woman – when there are actually lots of other ways to embody gender, and even ways of having no gender at all." 
– Sam Dylan Finch
Here are a few interesting facts to share about my experience with non-binary identities:
#1 —Almost 1/3 of the emails I have received from around the world are written by individuals who ask me, either specifically or using other terms, "Could it be that I'm non-binary?"
#2 —Of all of my "Ask a Gender Therapist" YouTube videos the one that has been viewed the 2nd most number of times (after "How Do I Know If I'm Transgender") is "Can I Transition if I am Non-Binary or Genderfluid?"
#3 — In 2013 I attended a workshop about non-binary identities during the Philadelphia Trans Health Conference and had my first realization that I was there for far more than merely furthering my education as a gender therapist about non-binary identities.
What does it mean to be Non-Binary?
To be able to explain "non-binary" let's first define "binary."
"Binary," in regards to gender identity, refers to being either female or male. Woman or man. Girl or boy. "Bi" = two, meaning these are the only options for gender that exist.
Or so we thought.
As a gender identity "non-binary" does indeed exist! It means someone doesn't feel comfortable identifying as a male or a female. In other words, they don't feel aligned with the gender they were assigned at birth, nor do they feel aligned with the "opposite" gender. (1)
This can also include how one feels their femininity and masculinity combine within them to form who they are as a person. This may or may not be related to their gender identity (more about this in Lesson Five).
Someone may not be able to put into words why they feel this way about their gender. They may only know what does and doesn't feel "right" when they are reminded of this (and remember, since gender is everywhere it is bound to happen a lot!).
Non-binary is an umbrella term that has a multitude of options within it. That's because if someone feels like they are "outside of the binary" the possibilities are endless as to how you can experience and describe your gender identity.
Let's look at a few of the general categories that non-binary identities can be broken into (2):
Agender: To feel as though you are without gender. Feeling as though gender is lacking within you, is undefinable, or unknowable. Agender can also be used as a way of stating you have no gender identity, and therefore "non-binary" does not accurately describe your experience either.
Androgyne: When your gender feels both masculine and feminine. This does not have to be an "even split" between masculine and feminine, nor does it have to remain the same combination at all times.
Demigender: Feeling a partial connection to a gender identity. There are sub-categories to choose from such as demiboy, demigirl, and demiandrogyne.
Genderfluid/Genderflux: Variances in your gender over time. Which genders? That is up to the individual. Over how much time? How often? Again, that is up to each individual.
Genderqueer: Can be used as an umbrella term, like "non-binary." A place for those who feel like existing terms fail to truly express their gender (or lack thereof). Is used at times to describe the intersection of one's gender identity, sexual orientation, and romantic orientation.
Intergender/Bigender: Feeling as if you are "in between" the genders of male and female, or is a combination of them. Some say this should be reserved only for those who are intersex (when someone is born with both "male" and "female" sex characteristics) and that it is more a description of one's biology rather than gender identity. Using a term such a "bigender," for instance, can instead be used to describe your gender identity.
Neutrois: To feel that your gender is neutral or "null." A combination of the French words neutre ("neutral") and trois ("three").
Pangender: Feeling that your gender is described by having all genders co-existing within yourself, including genders which have yet to be named, and perhaps will never be named. All of the genders do not have to be experienced at the same time and can be experienced more or less of the time than others.
Third Gender: More of a sociological term describing how certain cultures recognize having more than two genders. Third Gender is intended to convey that there are more than two genders, and not that it is limited to only three. Some people use third gender identities to describe themselves even if they are not a part of the culture in which it originated (such as "Two Spirit," which is specific to Indigenous Peoples of North America). It is strongly advised that one makes sure they are mindful of the cultural origins of a term before deciding to identify as such.
Within each of these general categories there are specific terms that can help you narrow down your particular experience with gender. Additionally, you can use as many terms as you want, in whatever combination you want! I heard a non-binary YouTuber (thecharliecharmander) describe it like this:
"Think of it as using adjectives to describe your gender identity, instead of nouns."

Although this can sound liberating and full of possibilities, this might also sound a little confusing for some of you. There is an exercise in Lesson Seven where you will walk through the steps of choosing from these terms and piecing together your very own description of your gender identity.
How do you know if you might be non-binary?
Here are a few questions to ponder. Place a checkmark next to the ones you can relate to. Keep in mind that answering "yes" to any of these questions doesn't mean you are undeniably non-binary. It means there's something here worth exploring further.
____ Do you feel uncomfortable being given only the choice of male or female as options? (Ex: checking either "male" or "female" on forms, restrooms, at concerts when the singer says to the crowd, "Ladies you sing, now guys you sing!")
____ Do you shop in whichever clothes section has the clothes you want to wear, regardless of how the section is labelled? (as well as having difficulty finding clothes that fit you properly?)
____ Do you dislike being addressed as either "sir" or "ma'am" as well as terms such as "ladies" or "fellas"?
____ Do you wish you could be seen as whatever gender you feel like on any particular day?
____ Do you wish there was no such thing as gender and would rather have nothing to do with it?
____ Do you feel fine with whatever gender you are perceived as, maybe even getting a kick out of confusing others with how you are presenting?
____ Do you have discomfort with being referred to as either "she" or "he"?
____ Do you have no real attachment to being referred to as either "she" or "he"?
____ Would you like to have the freedom to use non-gender-related terms to describe yourself, even when "your gender" is specifically asked for?
____ Do you have a first name that is very gendered (I.e. very feminine or masculine) and it feels like it doesn't suit you?
____ Do you find it unpleasant to be presented with only two options, especially if you are expected to chose one of those based on the gender others assume you are?
____ In regards to your sexual orientation, do you find it difficult to specify if you are "gay" or "straight" because that means you are saying you are interested only in the "opposite" or "same" gender?
____ Do you feel like there are some aspects of who you are physically, socially, and hormonally that you are fine with and others that you are very uncomfortable with?
____ Do you find yourself not wanting to be limited by gender when it comes to what you can be interested in, how you can act, how you dress, etc.?
The keys are to:
Feel out what you are and aren't comfortable with in regards to your gender
Examine the many different layers of who you are
Investigate and explore the options
Give yourself time and space to do so
If this exercise has begun to spark your curiosity, keep on reading! All of the exercises in this book were created keeping in mind the possibility that the your gender identity may very well be one that is non-binary. There are also resources in the Further Reading section of this book for you to explore more about non-binary identities (which I am added to the end of this blog post).
Possible challenges with identifying as Non-Binary
On the upside, it can be a big relief for someone to realize that they might identify as non-binary if they had previously only been exposed to binary options of gender identity.
On the downside, the reality is that societies will frequently show initial resistance to a new perspective about something that has been a long-standing "tradition" (in this case, the notion that are only two genders, "male" and "female").
On the milder side this resistance can come across as confusion, uncertainty, and discomfort towards the people who are having this experience.
On the harsher side it can result in a refusal to acknowledge their very existence, as well as flat out disrespect and disdain towards them.
Keep in mind it is common, and even necessary, for a society to be introduced to "new perspectives" and to struggle with them for a while. Hopefully, over time, the society will come to an understanding that this is a valid perspective and therefore learn to embrace it as a genuine expression of the human experience of many of that society's members.
This is where we are with non-binary identities in much of the world. The existence of non-binary gender identities is something that has only recently been put into words in many societies (not all!). This means it's still in its infancy stage of being recognized and incorporated by these populations.
Here are some of the challenges that people who identify as non-binary might come across when they are in the process of exploring and sharing this:
Exploring different gender identities over a period of time and having others tell them they are being confusing/that they don't believe them
Not having many role models to chose from, whether in private or public life
Not seeing themselves represented in the "mainstream" very often
Wanting to use third-gender pronouns (such as they/them) but having issues with getting others to get to used it
Having difficulty finding resources, support, and stories of those who identity as non-binary
Having your gender identity (or lack of gender identity) being seen as invalid by those who are binary (i.e. "Pick a side")
Feeling like you don't "qualify" as being trans/transgender
Not wanting to identify as trans/transgender but having others say that you are
Encountering resistance if one decides to take medical steps to transition
Encountering resistance if one decides not to take medical steps to transition
Being faced with increasing awareness that societies were oftentimes formed with only "binary" as an option
Remember, if you identify as non-binary you are in the early stages of what is seen in many societies as a "new perspective." It's going to take time for everyone else to get caught up, so be sure to find support and community for yourself!
(1) *"Non-Binary Transition for Medical and Service Providers" by Micah
(2) * With lots of help from gender.wikia.com/wiki/Gender_Wiki
Further Resources
These 5 Myths Might be Holding you back from non binary transition
Help! I Think I Might Be Non-Binary, But How Can I Know?
http://everydayfeminism.com/2015/03/non-binary-people-need-know/
http://everydayfeminism.com/2015/07/assumptions-non-binary-folks/
http://www.slate.com/blogs/outward/2015/03/24/genderqueer_what_does_it_mean_and_where_does_it_come_from.html
http://neutrois.me/2015/09/01/the-gender-playbook/
http://neutrois.me/2015/04/13/whats-my-gender/
http://nonbinary.org/wiki/Practical_Resources
http://neutrois.com/community/
This Post Has Been Viewed 2,050 Times