"Ma'am" and "Sir" in a Transgender World: Part One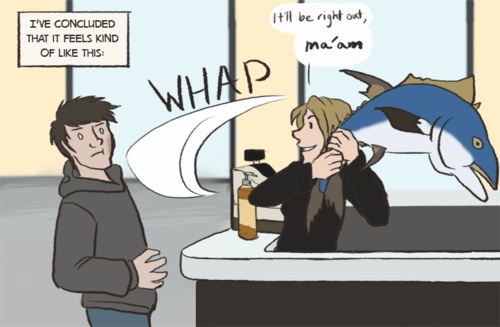 I went to the dry cleaners the other day to pick up my wife's fancy outfits that she has to wear to dog shows. On my drive there I reflected on how this errand had a "husband-ly" feel to it. The dry cleaners is not someplace I personally feel the need to frequent. But the part of me that really enjoys feeling like the hero was excited to fulfill this task for my fair lady, and with a ridiculous amount of pride and honor.
So I enter the dry cleaners, wait my turn in line, pay the clerk, at which point she says, "Thank you, ma'am, have a nice day." I could tell I felt…disappointed.
Now, it's normal for me to feel a pang of annoyance whenever a stranger calls me "ma'am," thanks to how conscious I am of how the incorrect use of "ma'am" or "sir" can affect my transgender clients. But disappointed? That was a new one for me.
I didn't realize until I sat down to write this blog post that it was because I had entered the dry cleaners in a more "masculine" head space. It's a place I find myself in quite often and have spent many years working on embracing that very natural part of who I am. Being called "ma'am" derailed me in that moment. It felt like she had a fleeting impression of who I was, unconsciously assigned a word to it, spoke it, and it was…well, not right.
It's called being "Misgendered"
I immediately wondered, "What makes her think I'm a 'ma'am'?" Since ma'am = definitely female and I wasn't even close to feeling "definitely female," I looked down at what I was wearing. Jeans and a t-shirt, a ball cap, no makeup, no earrings… Was it my voice? Was it my boobs? Was it something about the shape of my face?
What I experienced at the dry cleaners is only a miniscule percentage of what it's like for someone who is trangender.
Think about it – how many times a week do you find yourself in an establishment in which you will more than likely be called "ma'am" or "sir"? You'd be amazed at how often you are labeled by strangers as a female or male once you start paying attention to this. And we haven't even touched upon the subject of misgendering* someone over the telephone (*the act of gendering someone incorrectly).
"Hey, Girl" & "Hey, Buddy"
As I've been writing this post in a local coffeeshop the barista has addressed every person who appears to be a female (including myself) "girl." This can make the heart sing of a trans female, and make the heart plummet of a trans man. She also called every person who appeared to be male "dude" or "buddy." Again, this can feel highly validating for a trans male, and devastating for a trans female.
Don't get me wrong, my trans clients generally don't harbor ill will towards a customer service person who misgenders them. It's ingrained in our culture as a method of showing respect, and isn't something that's going to change anytime soon, if ever. My hope is that the readers of this post become more aware of the use of "ma'am" and "sir" in our society, and develop compassion for the transgender perspective in this regards.
Note:  I'm coming at this from a somewhat limited perspective, in that the majority of my clients live in the Southern Colorado area, which has a high population of military personnel in the area, and are mainly Caucasian. The frequency and intention of use of "ma'am" and "sir" absolutely varies in different parts of the country, as well as with ethnic backgrounds and cultures.
This is a very complex subject matter, which is why this is only Part One to this series.  It may seem like no big deal to those who have never had to depend upon being properly called "ma'am" or "sir" in relation to their identity and sense of self. But for someone who is transgender or trans*, it can be a daily ordeal.
In Part Two we'll look at the challenges many trans people encounter when they are "going out" (i.e. doing normal things like shopping, eating out, going to work, etc.) Whereas cisgender folks oftentimes don't give it a second thought, there's a self-conscious process trans folks will often go through when deciding how to dress and present themselves so they will not be misgendered. Including the decision of whether or not to speak outloud in public.
"Ma'am" and "Sir" in a Transgender World: Part Three
Homework Assignment
Become aware of how often you are addressed as "ma'am" or "sir." Why do you think that person assumed you were a female or a male? Notice your own use of "ma'am" and "sir" as well.  If using these labels is too ingrained into your psyche to stop using them, come up with an alternative term you can use for when you encounter someone who's gender identity you are uncertain of (such as "hon" or "friend"). Or don't use a label at all in those circumstances ("Have a nice day, *silence follows*").